Oklahoma Cemeteries Website
Click here to break out of frames
This information is available for free. If you paid money for a
subscription to get to this site, demand a refund.
---
Woodward County Obituary
Vonton Cemetery
© Billings Funeral Home
WOODWARD, WOODWARD CO, OK
(permission granted)
Submitted by: Ann Weber
FRANK W. HICKEY
November 28, 1942 - May 30, 2018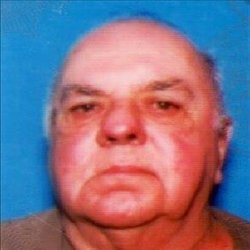 Frank W. Hickey, 75 year old Woodward County resident, died Wednesday, May 30, 2018 at his home south of Woodward. Funeral services will be held at 2:00 p.m. Monday, June 4, 2018 in the Billings Funeral Home Chapel with Reverend Ken McKinley officiating. Burial will follow in the Vonton Cemetery.
Frank Willard Hickey was born November 28, 1942 in Woodward, Oklahoma; he was the son of Lester Eugene and Eva Louise (Wyatt) Hickey. Frank grew up in Woodward and attended Woodward schools. He was a cook in the Army Reserves for a few years. Frank worked as a brick layer, a welder, on rigs in the oilfield, and a farmer.
He was united in marriage to Alva Marie Brumley on January 4, 1978 in Woodward, Oklahoma. They made their home south of Woodward and have lived there since that time. Frank was raised in the Trinity Lutheran Church.
Frank enjoyed fishing, hunting, but most of all he loved his children and grandchildren. The best times of his life were spent with his wife, children, and grandchildren.
He is survived by his wife Alva Marie Hickey of the home; three sons: Jimmy Martin, Frankie Hickey and wife Dedra, Dennis Sears and wife Lana; three daughters: Brenda Ann Martin and husband Michael, Debbie Marie Chill, Regina Dean Chill; 17 grandchildren; 20 great-grandchildren; one brother Louis Hickey and wife Mary Ann; one sister Beverly Hartzell and husband Elvin Lee; other relatives and many friends.
He was preceded in death by his parents, infant sister Peggy Colleen, one son, Lester Lee Hickey, grandson, Dusty Martin and brother-in-law Everett Chance.
|Vonton Cemetery| |Woodward County Cemeteries| |Home|
---
This site may be freely linked, but not duplicated in any way without consent.
All rights reserved! Commercial use of material within this site is prohibited!
© 2000-2023 Oklahoma Cemeteries

The information on this site is provided free for the purpose of researching your genealogy. This material may be freely used by non-commercial entities, for your own research, as long as this message remains on all copied material. The information contained in this site may not be copied to any other site without written "snail-mail" permission. If you wish to have a copy of a donor's material, you must have their permission. All information found on these pages is under copyright of Oklahoma Cemeteries. This is to protect any and all information donated. The original submitter or source of the information will retain their copyright. Unless otherwise stated, any donated material is given to Oklahoma Cemeteries to make it available online. This material will always be available at no cost, it will always remain free to the researcher.