Oklahoma Cemeteries Website
Click here to break out of frames
This information is available for free. If you paid money for a
subscription to get to this site, demand a refund.
---
Woodward County Obituary
Union Cemetery
aka Brown
Forrest A. Watkins
25 Jul 1924 - 26 Nov 2014
© BILLINGS FUNERAL HOME
WOODWARD, WOODWARD CO, OK
(permission granted)
Submitted by: Ann Weber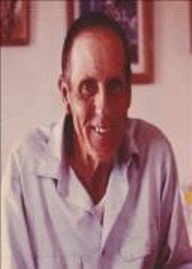 Funeral: 2:00 PM Monday, December 1st, 2014 - Billings Funeral Home Chapel
Known for his neighborly ways and love of the land, Forrest A. Watkins, 90, passed away in his sleep early on Nov. 26, 2014.
Born July 25, 1924, Forrest lived most of his life in Woodward County, aside from a brief time as a child in Oregon and California. The tall, lanky man embodied the spirit and life of a true cowboy. Like many living the rural life, Forrest took on many tasks that lesser men might have shied from. He changed tractor tires on his own, built miles of fence, chased cattle on horseback, four-wheeler, and foot as needed, and pulled many a well in his years with his wife, Bonnie, on their farm.
Forrest came by his work ethic naturally, born the only son and oldest child of farmers who did whatever it took to make life work, including traveling around the country looking for work in hard times. Woodward County was always home, though, for Forrest and his four little sisters, who adored their big brother, a man who went to bat for them as needed. Besides farming with his dad, Luther, Forrest also worked for the Works Progress Administration constructing War Department projects until he enlisted in the U.S. Army in May 1944. After basic training at Fort Hood, Texas, the young soldier left for the European war just in time to get caught up in the Battle of the Bulge. Forrest and several of his fellow soldiers were captured and sent to eastern Germany for internment, where food was scarce and near-starvation conditions led him to escape three times, twice being recaptured and once returning on his own with food for his comrades. On his fourth and final escape, Forrest walked away from German captivity, about two weeks before the European war ended. Traveling on foot, he began trekking west, looking for food and friendly forces. When repatriated, he weighed about 100 pounds.
Forrest's experiences, especially his time at war, guided his life from that point forward. His aim was never to be hungry again and to always, no matter what, be self-sufficient. Anyone who knew him would say he fulfilled those life goals to his dying day. Forrest truly was the best neighbor any farmer or rancher could find. His love for the land and country life defined him. He was a true cowboy.
Forrest is survived by his wife of 68 years, Bonnie Mae, as well as his children, Linda Easter and husband, Eddie, of Piedmont, OK.; Larry Watkins of Mooreland, OK; and Lois Brake and husband, Jerry, of Rush Springs, OK. His five grandchildren include Brian Easter, Susan Easter Bosch, Jennifer Watkins, Zackary Brake, and Lori Brake. Nine great-grandchildren and numerous nieces and nephews also survive him.
Forrest was preceded in death by his father Luther Edward and mother Ava, sisters Ruth Hawkins, Mary Brown and Lula Mae Fark. He has one surviving sister, Evelyn Thompson of Oklahoma City.
Forrest was greatly loved by all his family and sisters and will be sorely missed.
Services will be held at Billings Funeral home, 1621 Downs Ave, Woodward, at 2 p.m. Monday, Dec. 1, followed by burial at Union Cemetery near Quinlan.
|Union Cemetery| |Woodward County Cemeteries| |Home|
---
This site may be freely linked, but not duplicated in any way without consent.
All rights reserved! Commercial use of material within this site is prohibited!
© 2000-2023 Oklahoma Cemeteries

The information on this site is provided free for the purpose of researching your genealogy. This material may be freely used by non-commercial entities, for your own research, as long as this message remains on all copied material. The information contained in this site may not be copied to any other site without written "snail-mail" permission. If you wish to have a copy of a donor's material, you must have their permission. All information found on these pages is under copyright of Oklahoma Cemeteries. This is to protect any and all information donated. The original submitter or source of the information will retain their copyright. Unless otherwise stated, any donated material is given to Oklahoma Cemeteries to make it available online. This material will always be available at no cost, it will always remain free to the researcher.