Oklahoma Cemeteries Website
Click here to break out of frames
This information is available for free. If you paid money for a
subscription to get to this site, demand a refund.
---
Woodward County Obituary
Persimmon Cemetery
Dona June Mathews
July 16, 1940 ~ May 08, 2020
© SHAW FUNERAL HOME
VICI, DEWEY CO, OK
(permission granted)
Submitted by: Ann Weber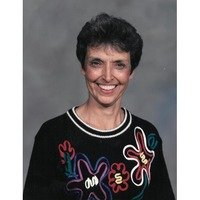 Dona June Mathews, 79 year old Mutual, OK resident passed on May 8, 2020 at her home. She was born July 16, 1940 in Shattuck, OK to Cecil Charles and Thora Ferna (Wingo) Mathews. Dona June graduated from Mutual High School with the class of 1958. She went on to further her education at Southwestern Oklahoma State University and graduated in 1962 with a Bachelors of Science in Education Degree. Although, Dona June wasn't finished furthering her own education, she graduated in 1964 with a Masters Degree of Teaching.
Dona June began her teaching journey in Attica, KS. She spent 3 years there and then took a position in Hugoton, KS. Where she taught from 1967 to 1990. She loved her time in the Sunflower State. She left there with wonderful memories and many lifelong friends. In 1991, her parents became ill and needed her to move back to the farm to care for them. She fulfilled their wishes then returned to the classroom as a High Challenge Student Tutor, private tutor, and substitute teacher until 2018.
Dona June was an active member of the Mutual United Methodist Church. She served on numerous boards and committees. She had a deep rooted love and devotion to God. She wholeheartedly believed in the power of prayer and beautifully did she pray. A natural giver, she loved supporting kids whether it be attending school activities or buying from fundraisers. Dona June was a life savior in tutoring many students throughout the years.
Dona June enjoyed listening to music and exercising in her spare time. She loved to watch Thunder Basketball and was their number one fan and biggest cheerleader. Although, her most pride and joy was maintaining the legacy of the family farm. Dona June truly loved the farm life and spending time with her family.
Dona June received many honors and awards during her lifetime. She was salutatorian of her class in junior high, high school and college. In 1961 she was Southwestern Oklahoma State University SNEA Sweetheart. Dona June was honored in 1973 with the Outstanding Young Woman of America award. Some of her other honors and accomplishments are Outstanding Young Educator, President of High Plains Reading Council, Reading Fanfare – Adult Reading Seminar – Coordinator and Presenter at Panhandle State Oklahoma University, Chairman of numerous Church Education Committees, Who's Who Among Human Service Professionals from the National Reference Institute and Who's Who in American Education also from the National Reference Institute. As you can see Dona June was a go getter and took her education and everything she was involved in very serious.
She was preceded in death by her parents Cecil and Ferne Mathews, sister Mona Jean Harper, brother J.D. Mathews and nephew Bob Mathews.
Those left to cherish her memories are brother-in-law Bill Harper of Mutual, OK; niece Laura Harper of Mutual, OK; nephews Bill J. Harper of Mutual, OK and Dennis Mathews of The Woodlands, TX; great niece Jenna (Harper) Cooper and husband Jim of Mutual, OK; great nephew Jase Harper of Mutual, OK; great-great niece and nephew Cade and Callahan Cooper of Mutual, OK; and numerous other relatives and close friends.
Memorials may be made to the Mutual Persimmon Cemetery or Sunnyside Cemetery in care of Shaw Funeral Home, P.O. Box 276, Vici, OK 73859.
Due to current restrictions on gathering size (10) we ask that those not in the immediate family please stay in vehicles and watch our stream of the services online at https://www.facebook.com/ShawandRedingerFuneralHomes/
Graveside Service

Monday, May 11, 2020
11:00 AM

Mutual Persimmon Cemetery

Mutual, Oklahoma 73853
|Persimmon Cemetery| |Woodward County Cemeteries| |Home|
---
This site may be freely linked, but not duplicated in any way without consent.
All rights reserved! Commercial use of material within this site is prohibited!
© 2000-2023 Oklahoma Cemeteries

The information on this site is provided free for the purpose of researching your genealogy. This material may be freely used by non-commercial entities, for your own research, as long as this message remains on all copied material. The information contained in this site may not be copied to any other site without written "snail-mail" permission. If you wish to have a copy of a donor's material, you must have their permission. All information found on these pages is under copyright of Oklahoma Cemeteries. This is to protect any and all information donated. The original submitter or source of the information will retain their copyright. Unless otherwise stated, any donated material is given to Oklahoma Cemeteries to make it available online. This material will always be available at no cost, it will always remain free to the researcher.