Oklahoma Cemeteries Website
Click here to break out of frames
This information is available for free. If you paid money for a
subscription to get to this site, demand a refund.
---
Woodward County Obituary
Persimmon Cemetery
Chancery Lanee Bruce
June 11, 1998 ~ May 26, 2020
© SHAW FUNERAL HOME
VICI, DEWEY CO, OK
(permission granted)
Submitted by: Ann Weber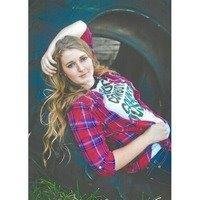 June 11, 1998 at Woodward, OK, Brandon and Tesha Jackson Bruce were blessed with a baby girl. They named this tiny bundle of joy, Chancery Lanee. Chancery grew up as a farm girl on the family farm near Mutual, OK. She attended grade school and high school in the Sharon-Mutual School System graduating with the Class of 2016. Chancery was active in the FFA program. She enjoyed showing her goats at livestock shows and her efforts were rewarded by making the premium sales. She earned her State FFA Degree, was a member of the National Honor Society and the Family Career and Community Leaders of America (FCCLA) Organization. Her education continued with classes at Northern Oklahoma College, Stillwater, OK and she was currently enrolled at Northwestern Oklahoma State University at the Woodward Campus. Chancery was employed as an eye tech at the optometry office of Dr. Jacoby Dewald, Great Plains Vision Center in Woodward, OK.
She enjoyed attending the Mutual Community Church, fishing, dragging her little sister on numerous adventures and hanging out with her friends by which she was affectionately known as Channy B. She loved her family, her border collie friend, Badger and bubble baths.
Heaven gained another angel on May 26, 2020 when Chancery was called home at the age of 21. She is preceded in death by her great grandparents Max and Maxine Jackson, Merlin and Verlyne Robison, John and Joanne Bruce, Helen Phillips and her great uncle, Russell Phillips.
Loved ones remaining to cherish her memory are her parents Brandon and Tesha Bruce and her sister Kalea Bruce of Mutual, OK; grandparents Steve Jackson and wife Marilyn of Oakwood, OK and John Bruce and wife Ranee of Sharon, OK; grandmother Betina King of Weatherford, OK; great grandparents, Albert and Roberta Phillips of Mutual, OK., uncle Kyle Bruce and wife Rachel of Stillwater, OK; aunts Jonna Wyrick and husband Willie of Mooreland, OK, Tisha Beshirs and husband Shannon of Madill, OK, Brittany Atteberry and husband Richard of Seiling, OK and Melanie Corley and husband Randell of Magnolia, TX; her Bud4Lyfe Jase Harper of Mutual, OK; several cousins, other family and many friends. Precious memories of happy times and her beautiful blue eyes will be forever cherished by all who knew her. Believe that today will bring you courage and tomorrow will bring you hope.
(Memorials may be made to the Oklahoma Optometric Foundation in care of Shaw Funeral Home, P.O. Box 276 Vici, Ok 73859.
Funeral Service
Monday, June 01, 2020
10:30 AM

Mutual High School Gym
Burial will follow at Persimmon Cemetery, Mutual, OK.
Mutual Persimmon Cemetery

Mutual, Oklahoma 73853
|Persimmon Cemetery| |Woodward County Cemeteries| |Home|
---
This site may be freely linked, but not duplicated in any way without consent.
All rights reserved! Commercial use of material within this site is prohibited!
© 2000-2023 Oklahoma Cemeteries

The information on this site is provided free for the purpose of researching your genealogy. This material may be freely used by non-commercial entities, for your own research, as long as this message remains on all copied material. The information contained in this site may not be copied to any other site without written "snail-mail" permission. If you wish to have a copy of a donor's material, you must have their permission. All information found on these pages is under copyright of Oklahoma Cemeteries. This is to protect any and all information donated. The original submitter or source of the information will retain their copyright. Unless otherwise stated, any donated material is given to Oklahoma Cemeteries to make it available online. This material will always be available at no cost, it will always remain free to the researcher.