-1
Oklahoma Cemeteries Website
Click here to break out of frames
This information is available for free. If you paid money for a
subscription to get to this site, demand a refund.
---
Woodward County Obituary
North Persimmon Cemetery
Charles Lockwood Phillips
April 4, 1922 ~ January 31, 2019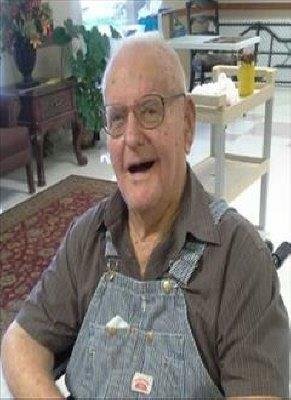 Charles Phillips, 96 year old lifelong Sharon area resident died Thursday January 31, 2019. Funeral services will be held at 11:00 am Saturday, February 9, 2019 in the Sharon First Baptist Church. Interment will follow in North Persimmon Cemetery with the Billings Funeral Home in charge of arrangements.
Charles Lockwood Phillips was born on April 4, 1922, on a farm west of Mutual, Oklahoma. His parents, George Cliffton Phillips and Grace Clara (Canfield) Phillips welcomed him as their first born son. There on the farm, the small family grew with the addition of two younger siblings: Melvin and Albert. The three boys shared chores around the farm with their dad by working the land and animals. It was this time of growing up that Charles grew to love the land, to love animals, and to learn that hard work would give results.
Charles started grade school at Mutual, and his younger siblings soon followed him. Charles (Chuck to some of his friends} played sports, studied somewhat, and continued to learn about farming from his parents. It was when he was in high school that WW11 began. Young men were eager to join the service to serve their country, so Charles enlisted in the Army, but ended up in the Airforce as pilots were needed. He was sent to learn how to fly and ended up being a B-22 pilot. Dad never talked much about being in the service to his children; however, he was proud to have served and displayed a wooden model airplane in the living room.
It was while he was stationed in Texas that he met a young waitress named Tommie Jo Harrison. The two soon married as Charles was discharged from the service. The newlyweds moved back to Oklahoma with Sandra (Tommies daughter from her first marriage) and lived with Charles parents until he and his dad could build the rock home that still stands on Charles property and where his daughter Candy and family now live. Charles and Tommie soon welcomed a new addition to their family, a daughter named Marie Ann in January 31, 1947. Firmly established in their new home, Tommie was soon preparing for the arrival of a new child; unfortunately, Marie Ann developed an illness which took her young life in January of 1948. Still mourning the loss of their daughter, Tommie gave birth to another daughter, Donna Gail. Tragedy hung over the young family as Charles and Tommie soon divorced. The courts gave Charles full custody of his young daughter. His parents, Cliff and Grace, stepped up and took her in so that Charles could heal and work his new job, a traveling milk tester for the many dairy farms in and around the Northwest area of Oklahoma.
It was during this time of being on his new job that Charles met Wilma Young, a young shy girl who lived with her aunt and uncle. They soon began dating, and Charles could see Wilma in his future. He brought her home to meet his parents and his daughter. All went well, because Charles and Wilma soon married. As the two started life on the farm, new babies began to come. Camellia (Candy) was born in June of 1955, Jerry came along in July of 1957, Delena Jean in November of 1958, and last to be born was Clara Charlene (Charlene) in March of 1960. These four plus their older sister Donna were soon to make life interesting for Charles and Wilma.
Charles and Wilma decided that they should become dairy farmers full time. So Charles built a milk barn, bought milk cows, purchased equipment, and stocked the upper part of the milk barn with grain which would come down in chutes so that each cow could eat (and hopefully be still) when milked. It was an amazing adventure. The stories that each of Charles children could tell would make you laugh. As time passed each child knew their jobs: either helping Wilma in the house or helping Charles outside with the cattle and milking. However, life happens and so do tragedies. Wilma developed heath issues and spent time with doctors who tried to heal her. She passed away from complications and was laid to rest in the Sharon Cemetery on October 6, 1993.
Charles soon connected with former friends, one of which was his high school sweetheart Eula Nelson. They soon realized there was still a spark and decided to marry which they did on January 15, 1994. The two first lived in a home that had been built for Charles younger daughter, Charlene, but as time passed Charles and Eula built a new life on property close to Albert and Helen. It was here they combined new families. New traditions were established and old ones continued. Charles and Eula continued to attend the Sharon Baptist Church where Charles had been a member since his marriage to Tommie Jo. He served as Sunday School leader, teacher, member of the church board, and spent his time helping to build new buildings at the Baptist Church summer camps.
Charles was a firm believer in our Lord and Savior and was a born again Christian. Even after he and Eula moved into the retirement center in Woodward or his last days in the nursing home, Charles read his Bible, prayed, and believed in God. As he reached his 96th birthday, Charles told his wife and his children, (I am ready for Heaven.)
Wife - Eula Phillips Her children: Jim and Linda Nelson, Max and Karen Nelson, and Patsy and Bill Shrewsbury
Oldest daughter - Donna Shook, husband Rodney Shook (daughter) Sherry and husband David Pattee with children: Trent and Taylor. (son) Brian and Amber Shook and son Maddox
Daughter - Camellia and husband David Wreath (son) Shawn and Jamie Wreath with children Harley and Jayanna : (daughters) Zandra and Chris Coberley with children Ethan and Zoey: Melody and Scott (Gator) Ryan with children Cameron, Noelia, Shane, Trixton and Kendra
Son - Jerry and DeAnn Phillips (son) Jeremy and Abby Phillips with children Grant, Georgia, and Ethan
Daughter-DeLena Whitten and children: Christopher, William, and Stephen
Daughter - Charlene and Chuck Wheeler (sons) Charlie and Candie Wheeler and children: Jamie, Ryan, and Patrick; Corey and Kathrin and children: Daniel, Aleric, and Kilian
Albert Phillips, brother, and many other nephews and nieces, as well as good friends
He was preceded in death by his parents and older brother, Melvin.
Memorial contributions may be made to the Sharon First Baptist Church with the funeral home accepting the contributions.
|North Persimmon Cemetery| |Woodward County Cemeteries| |Home|
---
This site may be freely linked, but not duplicated in any way without consent.
All rights reserved! Commercial use of material within this site is prohibited!
© 2000-2023 Oklahoma Cemeteries

The information on this site is provided free for the purpose of researching your genealogy. This material may be freely used by non-commercial entities, for your own research, as long as this message remains on all copied material. The information contained in this site may not be copied to any other site without written "snail-mail" permission. If you wish to have a copy of a donor's material, you must have their permission. All information found on these pages is under copyright of Oklahoma Cemeteries. This is to protect any and all information donated. The original submitter or source of the information will retain their copyright. Unless otherwise stated, any donated material is given to Oklahoma Cemeteries to make it available online. This material will always be available at no cost, it will always remain free to the researcher.