-1
Oklahoma Cemeteries Website
Click here to break out of frames
This information is available for free. If you paid money for a
subscription to get to this site, demand a refund.
---
Woodward County Obituary
North Persimmon Cemetery
Alvin Leroy Lynes
October 26, 1930 ~ February 3, 2019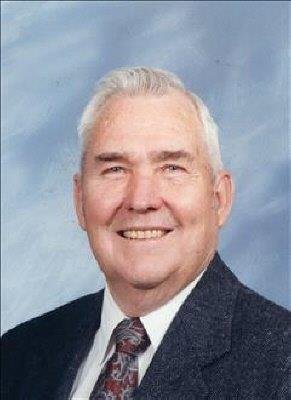 Alvin Leroy Lynes, 88 of Woodward, passed on to be with the Lord on February 3, 2019. Celebration of Life Services will be held at 2:00 p.m. Wednesday, February 6, 2019 at the First Christian Church with Reverend Ronnie Hopkins officiating. Burial will follow in the North Persimmon Cemetery east of Sharon, Oklahoma. Arrangements are under the direction of the Billings Funeral Home. The family will receive friends at the funeral home on Tuesday from 5:00 p.m. until 7:00 p.m.
Alvin Leroy Lynes was born on October 26, 1930 in Mutual, Oklahoma, one of the nine children born to Claud Alvin and Irene Vernie (Harris) Lynes. Alvin was raised in the Vici area and lived in Woodward most of his adult life. Alvin attended school in Vici and later received an Associates Degree in Refrigeration. He worked as a meat processor and a farmer for most of his life.
On October 12, 1951, Alvin was united in marriage to Wanda Mae Hinshaw at the United Methodist Church of Sharon. They made their home in Woodward, and were blessed with two children, Kevin Russell and Dedra Jan.
Alvin was a faithful member of the First Christian Church of Woodward. Alvin was an active member in Oklahoma and Texas Meat Processors Association, the Lions Club, and the Oklahoma Cattlemens Association. He was very involved in the First Christian Church.
He is survived by his son, Kevin Lynes and wife Shirley of Yukon; one daughter Jan Lynes of Kingfisher; three grandchildren, Cayla Lynes Ballard, Heather Lynes Williams and husband Mark, Todd Lynes and wife Lauren; great-grandchildren: Brock Ballard, Trip Williams, Blaine Williams, Mia Lynes, and Caleb Anthony Lynes who is due in April of 2019; brothers, Jesse Lynes, Dennis Lynes and wife Carolyn, Larry Lynes and wife Arlinda; sisters, Berta Grover, Gladys Hixson, Helen Kennedy and husband Gary, and Ila Fothergill and husband Jim; sister-in-law, Ann Lynes; other relatives and many friends.
He was preceded in death by his parents, wife Wanda on November 17, 2013, and one brother Billy Lynes.
Memorial contributions may be given to the First Christian Church with the funeral home accepting the contributions.
|North Persimmon Cemetery| |Woodward County Cemeteries| |Home|
---
This site may be freely linked, but not duplicated in any way without consent.
All rights reserved! Commercial use of material within this site is prohibited!
© 2000-2023 Oklahoma Cemeteries

The information on this site is provided free for the purpose of researching your genealogy. This material may be freely used by non-commercial entities, for your own research, as long as this message remains on all copied material. The information contained in this site may not be copied to any other site without written "snail-mail" permission. If you wish to have a copy of a donor's material, you must have their permission. All information found on these pages is under copyright of Oklahoma Cemeteries. This is to protect any and all information donated. The original submitter or source of the information will retain their copyright. Unless otherwise stated, any donated material is given to Oklahoma Cemeteries to make it available online. This material will always be available at no cost, it will always remain free to the researcher.