Oklahoma Cemeteries Website
Click here to break out of frames
This information is available for free. If you paid money for a
subscription to get to this site, demand a refund.
---
Woodward County Obituary
North Persimmon Cemetery
JASON NEAL COBERLEY
4 Sep 1976 - 2 Oct 2015
© BILLINGS FUNERAL HOME
WOODWARD, WOODWARD CO, OK
(permission granted)
Submitted by: Ann Weber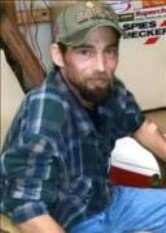 Graveside: 2:00 PM Thursday, December 10th, 2015 - North Persimmon Cemetery
Jason Neal "Maverick" Coberley of Sharon, Oklahoma was taken from his family and friends too soon on Thursday, December 3,2015. Jason was born on September 4, 1976 to Neal and Darlene Coberley in Sulphur, Oklahoma. Jason grew up in Sulphur with his brother Todd and attended school there and ended up with a nickname of "Mad Dog" that was given to him by his class mates. After graduation Jason started driving a truck for Swift, then he moved to Woodward where he continued to drive trucks for different companies. Jason knew he wanted to be a truck driver from the age of 12, he wanted to follow in his Papa's footsteps. Jason never met a stranger, whomever he met, he always greeted them with a smile and open arms.
He continued his life in Woodward where he met April Belcher and was married to her and had a little girl named Victoria until their passing. Jason thought his life was over until one of his best friend's Melody Wreath of Sharon showed him different. Jason and Melody started their life together on March 17, 2010, and her 4 children, Cameron, Noeila, Shane, and Trixtan. On Jasons birthday September 4th , 2011, Jason and Melody had a little girl named Kendra LaShay Coberley. Jason thought what a grand birthday present. He was a very proud father.
Jason found out on Oct 2, 2015, that he had a brain tumor, he then went to the cancer center in Tulsa, where he was receiving treatments,
Jason is survived in death by his wife Melody Coberley, and his kids Cameron, Noelia, Shane, Trixtan, and Kendra. His parents Neal and Darlene Coberley of Sulphur, his brother Todd and wife Shari Coberley and their two sons Mathew and Dakota of Davis, his Nana and Jr Smith of Davis, Uncle Barry and Aunt Sharon (big Sis) and her kids of Sulphur, Uncle Chris and Aunt Dana and their kids of Sulphur, Uncle Paul and Aunt Diana of Sulphur, Uncle Scott of Sulphur, Aunt Kathy of Sulphur, Uncle Wayne and cousins of Oklahoma City. Uncle Dennis and Aunt Kae and cousins of Woodward, Uncle Steve and cousins of Sulphur, Uncle Mel of Sulphur, Aunt Janet and Uncle Chuck and cousins of Ardmore.
Jason leaves behind lots of other additional family, friends, and co-workers
Jason was welcomed with open arms and smiles in Heaven by his daughter Victoria Coberley, his Granddad and Grandma Coberley, Papa Taylor, his Great Aunt Annie and Uncle of Sulphur, Uncle Louis of Sulphur, Earl of Woodward.
Funeral services for Jason will be held at 2:00 p.m. Thursday, December 10, 2015 at the North Persimmon Cemetery, east of Sharon. Burial will follow with the Billings Funeral Home in charge of arrangements.
Jason will be deeply missed but never forgotten. Until we meet again.
WE LOVE YOU ALWAYS JASON NEAL COBERLEY
|North Persimmon Cemetery| |Woodward County Cemeteries| |Home|
---
This site may be freely linked, but not duplicated in any way without consent.
All rights reserved! Commercial use of material within this site is prohibited!
© 2000-2023 Oklahoma Cemeteries

The information on this site is provided free for the purpose of researching your genealogy. This material may be freely used by non-commercial entities, for your own research, as long as this message remains on all copied material. The information contained in this site may not be copied to any other site without written "snail-mail" permission. If you wish to have a copy of a donor's material, you must have their permission. All information found on these pages is under copyright of Oklahoma Cemeteries. This is to protect any and all information donated. The original submitter or source of the information will retain their copyright. Unless otherwise stated, any donated material is given to Oklahoma Cemeteries to make it available online. This material will always be available at no cost, it will always remain free to the researcher.