Oklahoma Cemeteries Website
Click here to break out of frames
This information is available for free. If you paid money for a
subscription to get to this site, demand a refund.
---
Woodward County Obituary
North Persimmon Cemetery
© Billings Funeral Home
Sharon, Woodward County, OK
(permission granted)
Submitted by: Ann Weber
Ruth Ada Brittain Clem
December 24, 1925 ~ May 5, 2011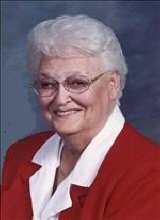 Ruth Clem, 85 year old long time Sharon resident, died Thursday, May 5, 2011 at her home, 3 " miles from where she was born. Funeral services will be held at 10:00 a.m. Saturday, May 7, 2011 at the First Baptist Church of Sharon, with the Reverend Jack Pilgrim officiating. Burial will follow in the North Persimmon Cemetery, one mile east of Sharon.
Ruth Ada (Brittain) Clem was born on December 24, 1925 at the family farm near Mutual, Oklahoma to Clinton and Blanche (Huff) Brittain. She attended school in Mooreland and Mutual, graduating from Mutual High School in 1944. After graduating high school, Ruth went to work as a nurse aid at the Woodward Hospital on 4th street. She was united in marriage to Ernst Lionel Clem on September 20, 1947 at the First United Methodist Church in Woodward, Oklahoma. They made their first home on the family farm at Sharon, before moving to Pipestone, Minnesota in 1949. They lived in Minnesota for 3 " years, before moving back to the family farm. They have resided there since that time. Ruth was a stay at home mom who also worked along side Lionel and his parents on the family dairy farm.
Ruth was a member of the First Baptist Church of Sharon, where she served as Sunday School Secretary for 30 years. She also taught Sunday School and Vacation Bible School. Ruth loved spending time with her family and friends. She had a way of making everyone feel special!! When her grandchildren were small, she spent hours reading to them and playing games. THEY LOVED THEIR MEME. When her brothers and sisters got together you could hear the laughter throughout the house. She loved the Lord and was a prayer warrior for her family and community. Ruth had served as state President for the Rural Letter Carriers Auxiliary
She is survived by her husband of almost 64 years, Lionel Clem of the home; two sons, Mark Clem and wife Sharon of Sharon, Martin "Marty" Clem and wife Terry of Camargo; daughter-in-law, Pam Curry and husband Jeff of Woodward; three sisters Eula Phillips and husband Charles of Sharon, Avis Duncan of Altus, Irma Woods of Woodward; seven grandchildren, Keri Clem Chelf and husband Chad, Matt Clem and wife Lea, Traci Clem Ellison, Jeremy Clem and wife Andrea, Ryan Clem and wife Megan, Mykel Clem McFall and husband Eric, Heath Clem and wife Jandi; 13 great-grandchildren and #14 due in June; numerous nieces, nephews, other relatives and many friends.
She was preceded in death by her parents, two sons, Michael Ray Clem on May 11, 1973, Monty Lee Clem on October 5, 2006, brothers, Dale Brittain, Lyle Brittain, Neil Brittain, Kail Brittain, Gene Brittain and one sister Nina Gilliam.
Memorial contributions may be made to the Moebius Foundation with the funeral home accepting the contributions.
|North Persimmon Cemetery| |Woodward County Cemeteries| |Home|
---
This site may be freely linked, but not duplicated in any way without consent.
All rights reserved! Commercial use of material within this site is prohibited!
© 2000-2023 Oklahoma Cemeteries

The information on this site is provided free for the purpose of researching your genealogy. This material may be freely used by non-commercial entities, for your own research, as long as this message remains on all copied material. The information contained in this site may not be copied to any other site without written "snail-mail" permission. If you wish to have a copy of a donor's material, you must have their permission. All information found on these pages is under copyright of Oklahoma Cemeteries. This is to protect any and all information donated. The original submitter or source of the information will retain their copyright. Unless otherwise stated, any donated material is given to Oklahoma Cemeteries to make it available online. This material will always be available at no cost, it will always remain free to the researcher.