Oklahoma Cemeteries Website
Click here to break out of frames
This information is available for free. If you paid money for a
subscription to get to this site, demand a refund.
---
Woodward County Obituary
North Persimmon Cemetery
© Billings Funeral Home
Sharon, Woodward County, OK
(permission granted)
Submitted by: Ann Weber
Naomi Dollie Clem
Marech 4, 1939 ~ March 4, 2019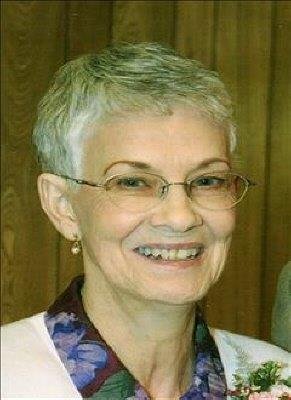 Dollie Clem, 80 year old Woodward resident, passed away Monday, March 4, 2019 in Woodward. Funeral services will be held at 2:00 p.m. Friday, March 8, 2019 at the First Baptist Church of Sharon with Reverend Jeff Bradley officiating. Burial will follow in the North Persimmon Cemetery east of Sharon.
Naomi Dorlene (Guthrie) Clem was born on March 4, 1939 east of Sharon, Oklahoma to Joseph Harold and Claudia (Winstead) Guthrie. Dollie grew up east of Sharon on the family farm and graduated from Mutual High School in 1957. She was united in marriage to Donnie Ray Clem on July 25, 1958 in Edmond, Oklahoma. They made their first home in Wichita, Kansas because of Donnie's work with Boeing. In 1961 they moved to Woodward and purchased a TV shop and named it Clem's TV. The family moved to Sharon in 1971 and later moved back to Woodward in 1985. Dollie worked for Martison's Grocery and Cowdens Manufacturing before getting married. She later worked at the Fruit of the Loom Factory for only a short period because she wanted to stay at home to raise her children. Dollie started working for Wal Mart when they came to Woodward in 1976 and continued working there until her retirement in 2002.
Dollie was a member of the First Baptist Church of Sharon where she was a member of the WMU, in her younger years. She accepted Jesus Christ at the age of 14 at a revival service. She and her daddy accepted him together.
She enjoyed sewing when the kids were small and she dabbled in quilting a little. Her favorite times were having the family get together. She also enjoyed trying new recipes.
She is survived by one son, Bill J Clem and wife Angela of Mutual; two daughters, Beth Renee Miles of Edmond, Kelli Hickman and husband Ronnie of Woodward; eight grandchildren, Micah Miles and wife Krystal, Jesse Miles, Andrew Hickman and wife Tanya, Jerod Miles, Austin Hickman and wife Samantha, Anthony Hickman, Brennon Clem, and Blayze Clem; three great-grandsons, Brody Miles, Brexten Miles, Stevie Ray Miles; one great-granddaughter, Linzy Hickman; sister-in-law, Phyllis Guthrie of Woodward; brother-in-law, Lionel Clem of Sharon; sister-in-law, Sharon Bright and husband Kenneth of Virginia Beach, Virginia; other relatives and friends.
She was preceded in death by her husband Donnie Clem on October 31, 2016, her parents, Joe and Claudia Guthrie, in-laws, Linzy and Dychie Clem, one brother H.C. Guthrie and sister-in-law, Ruth Clem.
Memorial contributions may be made to the Oklahoma Medical Research Foundation, heart research with the funeral home accepting the contributions.
|North Persimmon Cemetery| |Woodward County Cemeteries| |Home|
---
This site may be freely linked, but not duplicated in any way without consent.
All rights reserved! Commercial use of material within this site is prohibited!
© 2000-2023 Oklahoma Cemeteries

The information on this site is provided free for the purpose of researching your genealogy. This material may be freely used by non-commercial entities, for your own research, as long as this message remains on all copied material. The information contained in this site may not be copied to any other site without written "snail-mail" permission. If you wish to have a copy of a donor's material, you must have their permission. All information found on these pages is under copyright of Oklahoma Cemeteries. This is to protect any and all information donated. The original submitter or source of the information will retain their copyright. Unless otherwise stated, any donated material is given to Oklahoma Cemeteries to make it available online. This material will always be available at no cost, it will always remain free to the researcher.