Oklahoma Cemeteries Website
Click here to break out of frames
This information is available for free. If you paid money for a
subscription to get to this site, demand a refund.
---
Woodward County Obituary
Fairlawn Cemetery
Jaclyn Lane Rutledge
26 Dec 1980 - 11 Mar 2014
© Woodward News
Date unknown
Reprinted with permission
Submitted by: Jo Aguirre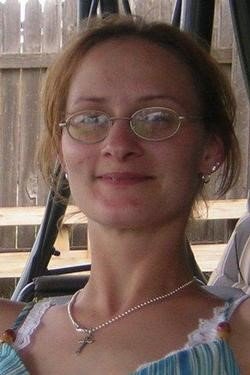 Jaclyn Lane Rutledge, 33 year old resident of Elk City, OK, went to be with the Lord on March 11, 2014. Jaclyn was born to Jesse and Billie Rutledge on December 26, 1980 in Shattuck, OK.
Jaclyn spent her life in Elk City and accepted the Lord at the age of 13 at Main Street Baptist Church in Elk City, OK and she received her GED in 2003. Jaclyn was blessed with 7 children; James "Kyler" Rutledge, Victoria Ivianne Knisley, Michael Joseph Knisley, Jacob Joseph Knisley, Penny Lane Knisley, Abby Rose Knisley, and Adalynn Kennedy Porter.
Those preceding Jaclyn in death are her daughter Victoria Knisley, Sons Michael and Jacob Knisley, grandfather Tom Alexander and grandmother Shirley Anne Rutledge; Great-Grandfather Henery Rutledge and Great-Grandparents Wilbur and Dorthy Wellman.
The ones left to remember Jaclyn are her parents, son James "Kyler" Rutledge and daughters Penny Lane and Abby Rose Knisley and Addlynn Kennedy Porter; sister Brandy Hunter of Elk City, OK; Grandfather Levi Rutledge of Woodward, OK and grandmother Rose Alexander of Woodward, OK and a host of other family and friends .
Funeral services were held on Saturday March 15, 2014 at 2:00 pm at the Vici Community Center, Vici, Oklahoma with interment following in Fairlawn Cemetery, Fort Supply, Oklahoma. Condolences may be made to the family at shawfuneralhome.net. Shaw Funeral Home of Vici.
|Fairlawn Cemetery| |Woodward County Cemeteries| |Home|
---
This site may be freely linked, but not duplicated in any way without consent.
All rights reserved! Commercial use of material within this site is prohibited!
© 2000-2023 Oklahoma Cemeteries

The information on this site is provided free for the purpose of researching your genealogy. This material may be freely used by non-commercial entities, for your own research, as long as this message remains on all copied material. The information contained in this site may not be copied to any other site without written "snail-mail" permission. If you wish to have a copy of a donor's material, you must have their permission. All information found on these pages is under copyright of Oklahoma Cemeteries. This is to protect any and all information donated. The original submitter or source of the information will retain their copyright. Unless otherwise stated, any donated material is given to Oklahoma Cemeteries to make it available online. This material will always be available at no cost, it will always remain free to the researcher.