Oklahoma Cemeteries Website
Click here to break out of frames
This information is available for free. If you paid money for a
subscription to get to this site, demand a refund.
---
Woodward County Obituary
Fairlawn Cemetery
© BILLINGS FUNERAL HOME
WOODWARD, WOODWARD CO, OK
(permission granted)
Submitted by: Ann Weber
JANE HUNTER
7 May 1926 - Mar 2016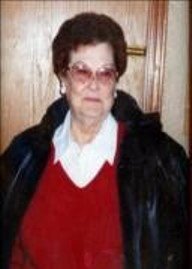 Funeral: 2:00 PM Saturday, March 12th, 2016 - Ft. Supply United Methodist Church
Interment: Saturday, March 12th, 2016 - Fairlawn Cemetery
Jane was born on May 7, 1926 to Lue Etta Evans and Alvin Lemarr Jones. Jane was the youngest of seven children. Jane graduated from Camargo High School in May of 1944. Jane met Richard Allen Hunter and they were united in marriage on November 18, 1943 at Camp Creek. Shortly after the couple were married, Richard was deployed to World War II. While Richard was deployed, Jane lived in California and worked on base at the teletype and always knew when her husband was going to be deployed before he knew. She also held several odd jobs such as working at a cannery and as a cigarette girl for one day. At the end of Richardís Army career, they moved to Fort Supply in May of 1953. Born to this union were Alveta Mae Lively, Betty Lue Winters, Richard Allen Hunter, JR (Ricky) and Alvin Reese Hunter (Rusty). Jane worked and retired from Western State Hospital in Fort Supply.
Jane expressed much love towards her 24 grandkids, 16 great grandkids and one great great grandchild.
Jane was preceded in death by her parents, Lue Etta and Alvin Jones, her siblings Bea Conley, Temple Burwell, Mae Hudson, Bethel Salisbury, Mary Williams, Bud Jones, Lil sis and Lil brother; her husband Richard Hunter; two sons Richard Hunter Jr (Ricky) and Alvin Hunter (Rusty)
Those left to cherish her memories and celebrate her life are Alvita Lively of Nacogdoches, Texas; Betty and Elmer Winters of Fort Supply; daughters-in-law, Joyce Hunter of Fort Supply; Debbie Hunter of Woodward; grandchildren, family and friends.
|Fairlawn Cemetery| |Woodward County Cemeteries| |Home|
---
This site may be freely linked, but not duplicated in any way without consent.
All rights reserved! Commercial use of material within this site is prohibited!
© 2000-2023 Oklahoma Cemeteries

The information on this site is provided free for the purpose of researching your genealogy. This material may be freely used by non-commercial entities, for your own research, as long as this message remains on all copied material. The information contained in this site may not be copied to any other site without written "snail-mail" permission. If you wish to have a copy of a donor's material, you must have their permission. All information found on these pages is under copyright of Oklahoma Cemeteries. This is to protect any and all information donated. The original submitter or source of the information will retain their copyright. Unless otherwise stated, any donated material is given to Oklahoma Cemeteries to make it available online. This material will always be available at no cost, it will always remain free to the researcher.