Oklahoma Cemeteries Website
Click here to break out of frames
This information is available for free. If you paid money for a
subscription to get to this site, demand a refund.
---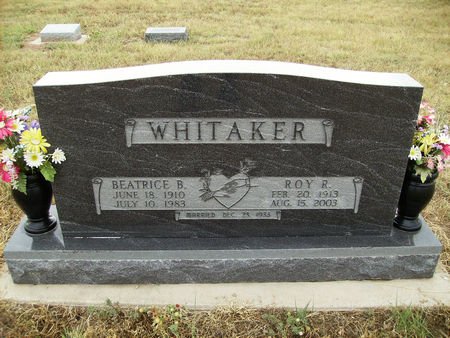 Submitted & © by: Paul Shaw
Roy Ray & Beatrice Belle Gannon Whitaker
Elm Grove Cemetery
Roy Ray Whitaker
20 Feb 1913 - 15 Aug 2003
©Redinger Funeral Home
Reprinted with permission

SEILING – The funeral for Roy Whitaker, 90, will be 2 p.m. Tuesday in Seiling First United Methodist Church. Vera Walton, pastor, will officiate. Burial will be in Elm Grove Cemetery near Chester. Arrangements are by Redinger Funeral Home.

He was born Feb. 20 1913 near Sherman, OK to Chandler Tuttle and Florence Bradshaw Whitaker and died Friday, Aug. 15 2003, at Fairview Fellowship Home.

He attended Victory School and farmed in Chester area for 60 years. He served on Major County Election Board for 25 years. On Dec. 23, 1933, he married Beatrice Gannon at Woodward, OK. She died July 10, 1983. On he married Velma Newman at Waynoka, OK. He was a member of Waynoka United Methodist Church.

Surviving are his wife, Velma of Fairview; two daughters Maxine Paulsen of Fairview and Arlene Logan of Enid, OK; one stepdaughter, Jeanene Bonicelli of Fort Worth, TX; one stepson, Melvin Newman of Atlanta, GA; six grandchildren; 11 great-grandchildren; and four great-great-grandchildren.

He was preceded in death by six brothers and two sisters.

Memorials may be made through the funeral home to the church's building fund.
Beatrice Belle Gannon-Whitaker
18 Jun 1910 - 20 Jul 1983
©Redinger Funeral Home
Reprinted with permission

Services for Beatrice Belle Whitaker, 73, who died Sunday 7/20/1983 in an Enid, OK hospital, will be at 2:00 pm, Wednesday in the Elm Grove Church, northwest of Chester with Rev. Orville White officiating.

Burial will be in the Elm Grove Cemetery, Mutual, Woodward County, OK with arrangements under the direction of the Redinger Funeral Home in Seiling, OK.

The Whitaker's made their home on a farm north of Chester. Mrs. Whitaker was a member of the Baptist Church and attended Sunday School at the Elm Grove Assembly of God Church. She was a retired school teacher, spending most of her 33-year career teaching in various rural schools in Major and Woodward counties. She later taught at Freehome and Lincoln Elementary School in Enid, retiring in 1973. Mrs. Whitaker was an active member of the Major County Retired Teachers Association and attended the Chester-Seiling Senior Citizens Center. She was also a member to the Chester Community Club. Survivors include her husband, Roy, of the home and two daughters, Mrs Arthur (Maxine) Paulsen, Chester and Mrs Kenneth (Arlene) Logan of Enid, OK; four grandchildren and four great-grandchildren; seven brothers, Aubrey Gannon, of Ft. Scott, KS; Ray Gannon of Blue Rapids, KS; Carl Gannon and Mike Gannon of Cherokee, OK; three sisters, Mary Kerr of Helena, WA; Leota Miller of Cherokee, OK; and Lorene Wise of Albany, IN. She was preceded in death by her parents, two brothers and two sisters.
---
This site may be freely linked, but not duplicated in any way without consent.
All rights reserved! Commercial use of material within this site is prohibited!
© 2000-2023 Oklahoma Cemeteries

The information on this site is provided free for the purpose of researching your genealogy. This material may be freely used by non-commercial entities, for your own research, as long as this message remains on all copied material. The information contained in this site may not be copied to any other site without written "snail-mail" permission. If you wish to have a copy of a donor's material, you must have their permission. All information found on these pages is under copyright of Oklahoma Cemeteries. This is to protect any and all information donated. The original submitter or source of the information will retain their copyright. Unless otherwise stated, any donated material is given to Oklahoma Cemeteries to make it available online. This material will always be available at no cost, it will always remain free to the researcher.