Oklahoma Cemeteries Website
Click here to break out of frames
This information is available for free. If you paid money for a
subscription to get to this site, demand a refund.
---
Woodward County Obituary
Dunlap Cemetery
Eula Florence Phillips
May 29, 1924 ~ January 6, 2020
© Billings Funeral Home
Woodward, Woodward Co, OK
(permission granted)
Submitted by: Ann Weber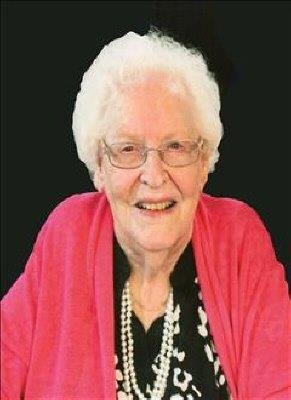 Eula Phillips, 95 year old Woodward resident, died Monday, January 6, 2020 at Providence Place in Woodward. Funeral services will be held at 10:00 am Thursday, January 9, 2020 in the Billings Funeral Home Chapel with Reverend Jesse Johnson officiating. Interment will follow in Dunlap Cemetery with the Billings Funeral Home in charge of arrangements.
Eula Florence (Brittain) Phillips was born on May 29, 1924 in the Moscow Flats area on the family farm. She attended the Harmony country school, later she transferred to Mooreland and graduated from Mooreland High School in 1941. Eula was united in marriage to Gene Nelson on April 7, 1947. The couple made their home in Mutual area where they farmed and ranched. Gene preceded her in death on July 7, 1974. She was then united in marriage to Charles L. Phillips on January 15, 1994, making their home on a farm near Sharon. Later in life Eula and Charles relocated to Providence Place in Woodward. Eula and Charles loved the Providence Place community, and staff.
She was a faithful church member and participated in several church families during her lifetime.
Eula is survived by a vibrant and loving family.
She was preceded in death by her parents, husbands, and nine siblings.
|Dunlap Cemetery| |Woodward County Cemeteries| |Home|
---
This site may be freely linked, but not duplicated in any way without consent.
All rights reserved! Commercial use of material within this site is prohibited!
© 2000-2023 Oklahoma Cemeteries

The information on this site is provided free for the purpose of researching your genealogy. This material may be freely used by non-commercial entities, for your own research, as long as this message remains on all copied material. The information contained in this site may not be copied to any other site without written "snail-mail" permission. If you wish to have a copy of a donor's material, you must have their permission. All information found on these pages is under copyright of Oklahoma Cemeteries. This is to protect any and all information donated. The original submitter or source of the information will retain their copyright. Unless otherwise stated, any donated material is given to Oklahoma Cemeteries to make it available online. This material will always be available at no cost, it will always remain free to the researcher.