Oklahoma Cemeteries Website
Click here to break out of frames
This information is available for free. If you paid money for a
subscription to get to this site, demand a refund.
---
Woodward County Obituary
Dunlap Cemetery
CARL LEROY JOHNSON
10 Jul 1940 - 10 Aug 1914
© WOODWARD NEWS
Sunday, August 17, 2014 9:59 am
Reprinted with permission
Submitted by: Ann Weber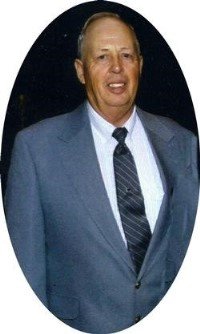 Carl Leroy Johnson, third of six children born to Harvey "Clay" Johnson, Jr. and Pearl Grace (Magee) Johnson, came into this world July 10, 1940 at the family home in Woodward County. He passed away on August 10, 2014 at the age of 74 years and one month.
Carl attended school at Richmond, where he enjoyed playing baseball, and upon Richmond's closure, Carl continued his schooling and baseball career at Mutual, where he graduated with the class of 1958. On September 13, 1958 he was joined in marriage to Glenda Mae Poulson in the country home of her parents. Carl and Glenda made their first home in Enid, Oklahoma, where their first child, Susan Kay, was born in 1959. They then moved to the Mutual area, where their first son, Randy Lynn, was born in 1961. They later made their home one mile west of the old Richmond School and there, two more children were added to the family: Rebecca Diane in 1969 and Eric Lee in 1972.
Carl enjoyed raising cattle and farming, spending time with family and his grandchildren, collecting John Deere memorabilia, going on afternoon drives around his property, and visiting with neighbors. Neighbors could depend on him for a bale of hay or a spirited conversation.
Carl was preceded in death by wife Glenda in 2009 after 50 years of marriage; parents, Clay and Pearl; brothers, Carol Johnson and Dale Johnson; and grandson, Shelby. Carl is survived by his children: Susan and Phil England of Seiling, Randy and Sherry Johnson of Mutual, Rebecca and Nathan Shuyler of Tulsa, Eric and Shelly Johnson of Woodward; grandchildren Amanda and Jerrod Geiger, Lance and Tereisa England, Jamie and Daniel McIntyre, Randy Jr. and Amanda Johnson, Andrea Blackwood, Samantha and Matt Sander, Lunden England, Josh Goff, Chandler Johnson, and Olivia Shuyler; 13 great-grandchildren; brother, Allen Johnson; sisters, Rosalee Vessels and Roberta Gregory, and numerous nieces, nephews, cousins, neighbors and friends.
Funeral services were held on August 14, 2014 at 10:00 am at the Mutual Christian Church, Mutual, Oklahoma with interment following in Dunlap Cemetery, Mutual, Oklahoma.
Condolences may be made to the family & Memorial Tribute viewed at shawfuneralhome.net. Shaw Funeral Home of Vici.

Thursday August 14th
Carl L. Johnson -- 10:00 a.m.
Funeral services will be held at the First Christian Church, Mutual, Oklahoma with interment following in Dunlap Cemetery, Mutual, Oklahoma.

Visitation:
Wednesday ~ 9:00 am to 7:00 pm
Shaw Funeral Home of Vici
|Dunlap Cemetery| |Woodward County Cemeteries| |Home|
---
This site may be freely linked, but not duplicated in any way without consent.
All rights reserved! Commercial use of material within this site is prohibited!
© 2000-2023 Oklahoma Cemeteries

The information on this site is provided free for the purpose of researching your genealogy. This material may be freely used by non-commercial entities, for your own research, as long as this message remains on all copied material. The information contained in this site may not be copied to any other site without written "snail-mail" permission. If you wish to have a copy of a donor's material, you must have their permission. All information found on these pages is under copyright of Oklahoma Cemeteries. This is to protect any and all information donated. The original submitter or source of the information will retain their copyright. Unless otherwise stated, any donated material is given to Oklahoma Cemeteries to make it available online. This material will always be available at no cost, it will always remain free to the researcher.