Oklahoma Cemeteries Website
Click here to break out of frames
This information is available for free. If you paid money for a
subscription to get to this site, demand a refund.
---
Woodward County Obituary
Dunlap Cemetery
ELMER JAMES BILLINGSLEY
August 22, 1918 - September 2, 2014
© SHAW FUNERAL HOME
VICI, DEWEY CO, OK
(permission granted)
Submitted by: Ann Weber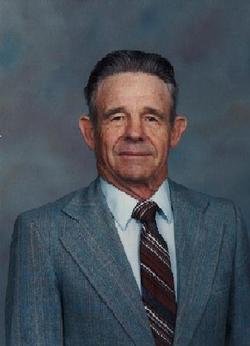 Elmer James Billingsley of Mutual, Okla., died Sept. 2, 2014, in Vici, Okla. He was 96 years old. Funeral service will be at 1 p.m. Sunday, Sept. 14, at the United Methodist Church in Mutual, Okla. The Rev. Debbie Kerr will officiate. Burial will follow at Dunlap Cemetery in Woodward County.
Billingsley was born Aug. 22, 1918, to Emeth Lee and Edith May McAfee Billingsley in the family farmhouse near Mutual. He lived in the same house until 2012. His education began in a one-room country school named Pleasant Valley, District 40. At Mutual High School, he lettered in football. Upon graduation in 1936, he entered the engineering program at The University of Oklahoma. In 1939, his aging father needed help with the farming and ranching, so Billingsley returned home to Mutual. In 1942, he and his father began a farming partnership.
During World War II, he had an enlistment physical which found a heart murmur, so Billingsley spent the war years on the farm raising beef and wheat for the country. On Aug. 7, 1943, his older brother and best friend, Capt. Leonard Lee Billingsley, was killed when the B-25 Mitchell he was piloting was shot down during a bombing run near Mount Etna, Sicily. The plane sank in the Strait of Messina and no remains were recovered. This loss left an unendurable hole in Billingsley's heart.
As a child, he joined the United Methodist Church in Mutual in 1927. Billingsley loved his church family. Church socials and events were highlights of his year. From 1949 to 1950, Billingsley volunteered to help build a new church while keeping a busy farming and ranching schedule. Because of his meticulous organizational skills, he also kept the church books for many years.
Billingsley spent most of his life close to home, except for a 1964 trip when he and his mother flew to Italy to visit his brother, Dr. Ray Verne Billingsley, and family. After almost 70 years of ranching, Billingsley sold his cattle in 1998. In 2005, he received the Woodward County Conservation District award for his efforts in soil and land management. He continued to farm wheat until retiring in 2008.
Billingsley was a quiet man who enjoyed listening to others. However, when he did speak or gave advice, his words held weight. He always welcomed friends and family to his home with open arms. A favorite pastime was a quick trip to the pasture to fish, gather sandhill plums or cut a cedar Christmas tree. He is one of the last of the children born to Oklahoma pioneers.
Billingsley was preceded in death by his parents; his older brother, Capt. Leonard Lee Billingsley; and his younger brother, Dr. Ray Verne Billingsley.
He is survived by his sister-in-law, Nadine Young Billingsley; two nephews, Leonard James and his wife, Patricia Clark Billingsley, and Dennis Lee and his wife Dora; a niece, Sandra Renee, and her husband, Robert A. Phillips; and a favorite cousin, Ronald L. McAfee. Billingsley also has three grandnieces, Sarah, Lisa and Deborah; and a grandnephew, Milan.
In lieu of flowers, the family requests donations be made to the United Methodist Church, P.O. Box 5, Mutual, Okla., 73853.

Sunday September 14th
Elmer Billingsley -- 1:00 p.m.
Funeral services will be held at the United Methodist Church in Mutual with burial following at Dunlap Cemetery.
Viewing Hours: Family will be present to greet friends on Tues., Sept. 9, 2014 at the funeral home in Vici from 3:00 p.m. to 7:00 p.m.
|Dunlap Cemetery| |Woodward County Cemeteries| |Home|
---
This site may be freely linked, but not duplicated in any way without consent.
All rights reserved! Commercial use of material within this site is prohibited!
© 2000-2023 Oklahoma Cemeteries

The information on this site is provided free for the purpose of researching your genealogy. This material may be freely used by non-commercial entities, for your own research, as long as this message remains on all copied material. The information contained in this site may not be copied to any other site without written "snail-mail" permission. If you wish to have a copy of a donor's material, you must have their permission. All information found on these pages is under copyright of Oklahoma Cemeteries. This is to protect any and all information donated. The original submitter or source of the information will retain their copyright. Unless otherwise stated, any donated material is given to Oklahoma Cemeteries to make it available online. This material will always be available at no cost, it will always remain free to the researcher.