Oklahoma Cemeteries Website
Click here to break out of frames
This information is available for free. If you paid money for a
subscription to get to this site, demand a refund.
---
Woodward County Obituary
Curtis Cemetery
© The Woodward News
December 15, 2009
Reprinted with permission
Submitted by: Rex Warlick
MARK D. GONSER
6 Jun 1968 - 12 Dec 2009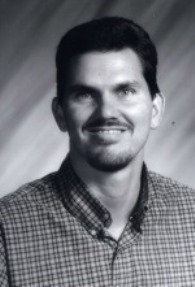 Woodward, Okla. — Mark D. Gonser, 41 year old Mooreland resident, died Saturday, December 12, 2009 at his home in Mooreland. Funeral services will be held at 1:00 p.m. Wednesday, December 16, 2009 at the First Baptist Church of Mooreland with the Reverend Jay Custar officiating. Interment will be in the Curtis Cemetery. Arrangements are under the direction of the Billings Funeral Home.
Mark Duane Gonser was born on June 6, 1968 in Beaver Dam, Wisconsin to Loren Ray and Terry Marlene (McGolden) Gonser. Mark was reared in the Sharon area and graduated from Sharon-Mutual High School in 1986. He attended Southwestern Oklahoma State University and graduated with his Bachelor of Science Degree in Psychology. Mark also received his Masters in Psychology. He was united in marriage to Laura Fenton in Woodward in 1993.
Mark worked as a Counselor in Hobart for a drug and alcohol rehabilitation center, before moving to the Tulsa area in 1996 where he worked as a teacher and counselor. He moved to Mooreland in January of 2009 due to ill health and to be closer to his family.
Mark was an avid reader, was very good on the computer and loved to cook. He also enjoyed playing the guitar and being with his dogs.
He is survived by his mother Terry Gonser of Mooreland; one brother Ray Gonser and wife Tammy of Mooreland; nephew, Kent Gonser and wife Rachel of Moore; niece Rachelle Sittner and husband Brady of Mutual; great-nephew Layne Sittner of Mutual; several aunts, uncles, cousins other family and many good friends.
He was preceded in death by his father Loren Gonser on November 4, 1998.
Memorial contributions may be made to the Woodward Animal Shelter or the charity of your choice with the funeral home accepting the contributions. Remembrances may be shared online at www.billingsfuneralhomewoodward.com.
|Curtis Cemetery| |Woodward County Cemeteries| |Home|
---
This site may be freely linked, but not duplicated in any way without consent.
All rights reserved! Commercial use of material within this site is prohibited!
© 2000-2023 Oklahoma Cemeteries

The information on this site is provided free for the purpose of researching your genealogy. This material may be freely used by non-commercial entities, for your own research, as long as this message remains on all copied material. The information contained in this site may not be copied to any other site without written "snail-mail" permission. If you wish to have a copy of a donor's material, you must have their permission. All information found on these pages is under copyright of Oklahoma Cemeteries. This is to protect any and all information donated. The original submitter or source of the information will retain their copyright. Unless otherwise stated, any donated material is given to Oklahoma Cemeteries to make it available online. This material will always be available at no cost, it will always remain free to the researcher.