Oklahoma Cemeteries Website
Click here to break out of frames
This information is available for free. If you paid money for a
subscription to get to this site, demand a refund.
---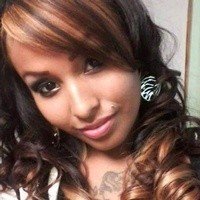 © Criswell Funeral Home
Services for Britney Michele Tiger, 26, of Ada area 1:00 p.m. Monday at The Church of Jesus Christ of Latter Day Saints in Ada. Bishop Bill Niblett will officiate. Burial will follow at Rosedale Cemetery. Following the funeral and burial, the family will receive friends at Wintersmith Lodge for a meal and a time to celebrate Britney's life.

Britney was born June 20, 1991 at Dallas, TX to Joseph Lee Tiger, Jr. and Bernadine Bear Heels. She moved to Ada in 2000 from Wewoka and attended Byng schools.

Britney enjoyed life. Her love for her family and others was one of Britney's endearing qualities. She will be missed by all who knew and loved her. Spending time with her family was the highlight of Britney's life and she would never miss an opportunity to be reunited with them. Those cherished memories will always be with us and forever stay in our hearts.

Survivors include three children, Jaylen Patrick, Christian Patrick and Samieya Williams; her parents are, Joseph Lee Tiger, Jr., Bernadine Bear Heels, Curtis and JoAnn Knighten; her sisters, Jessica Tiger, Josephine Tiger and Nawllah Tiger; her paternal grandmother, Christine Panoske Tiger; maternal grandmother, Virginia Iyotte; and other siblings, Scott Knighten, Christina Knighten, Kristopher Harjo, Ursula Jackson and Dayton Knighten; and numerous nieces and nephews. Britney also has other family in South Dakota, Texas and Oklahoma.

She was preceded in death by her paternal grandfather, Joseph Tiger, Sr.; and maternal grandfather, Solomon Bear Heels.

Bearers will be Jose Facundo JSr., Kristopher Harjo, Stephen Patrick, Dakota Williams, Scott Knighten, Tyler Tyson, Marcus Cruz and Dayton Knighten.

Criswell Funeral Home, Ada
|Rosedale Cemetery Page| |Pontotoc County Cemetery Page| |Home|
---
This page was updated: Sunday, 04-Apr-2021 03:04:16 CDT
This site may be freely linked, but not duplicated in any way without consent.
© 2021 Oklahoma Cemeteries
The information on this site is provided free for the purpose of researching your genealogy. This material may be freely used by non-commercial entities, for your own research, as long as this message remains on all copied material. The information contained in this site may not be copied to any other site without written "snail-mail" permission. If you wish to have a copy of a donor's material, you must have their permission.

All information found on these pages is under copyright of Oklahoma Cemeteries. This is to protect any and all information donated. The original submitter or source of the information will retain their copyright. Unless otherwise stated, any donated material is given to Oklahoma Cemeteries to make it available online. This material will always be available at no cost, it will always remain free to the researcher.
All rights reserved! Commercial use of material within this site is prohibited!