Oklahoma Cemeteries Website
Click here to break out of frames
This information is available for free. If you paid money for a
subscription to get to this site, demand a refund.
---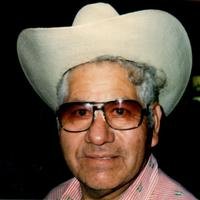 © Criswell Funeral Home
Services for Billy Gene Pickens, 87, of Stonewall are 2:00 p.m. Friday at the Criswell Funeral Home Chapel, Jody Newberry will officiate. Burial will follow at Highland Cemetery near Stonewall. The family will receive friends from 6:00 p.m. until 8:00 p.m. Thursday at Criswell Funeral Home.

Mr. Pickens passed away Sunday, July 9, 2017 at his home. He was born April 1, 1930 in the Burr Valley Community in Coal County, Oklahoma to Hiram and Mary Brownsfield Flood Pickens. He attended Jesse schools.

He married Naomi Faye Greenwood in 1955 at Ada. She preceded him in death August 9, 1969. Mr. Pickens was a truck driver for Taylor Produce, retiring after 35 years of service. He later was an independent driver for many years.

Survivors include four daughters, Patty Pickens, of the home; Nancy Lewis of Oklahoma City, Billie Joe Simpson of Oklahoma City, and Sandra Johns and husband Robin of Pontotoc; a granddaughter whom he helped raise, Gloria Gutierrez; two step-daughters, Rolanda Hamilton of Stonewall and Judy Cloud of Konawa; a step-son, Michael Wayne Story of Holdenville; 22 grandchildren; 28 great-grandchildren; a nephew, Robert Pickens of Tupelo; and a niece, Susan Virgin of Broken Bow.

He was preceded in death by his parents; his wife; three sons, Billy Michael Pickens, Bobby Don Pickens and Billy Gene Pickens, Jr.; and a brother, Bob Pickens.

Bearers will be Bo Burk, William Griffiths, Tim Deatherage, Jeremy Deatherage, Zac Lewis and Dalton Pickens. Honorary bearers will be Hoot Gibson, Lloyd Burk and Red Doffin.

Criswell Funeral Home, Ada
|Highland Cemetery Page| |Pontotoc County Cemetery Page| |Home|
---
This site may be freely linked, but not duplicated in any way without consent.
All rights reserved! Commercial use of material within this site is prohibited!
© 2000-2021 Oklahoma Cemeteries

The information on this site is provided free for the purpose of researching your genealogy. This material may be freely used by non-commercial entities, for your own research, as long as this message remains on all copied material. The information contained in this site may not be copied to any other site without written "snail-mail" permission. If you wish to have a copy of a donor's material, you must have their permission. All information found on these pages is under copyright of Oklahoma Cemeteries. This is to protect any and all information donated. The original submitter or source of the information will retain their copyright. Unless otherwise stated, any donated material is given to Oklahoma Cemeteries to make it available online. This material will always be available at no cost, it will always remain free to the researcher.