Oklahoma Cemeteries Website
Click here to break out of frames
This information is available for free. If you paid money for a
subscription to get to this site, demand a refund.
---
Eddi-Rue McClanahan
Feb 21,1934 - Jun 3,2010
Posted by Jo Aguirre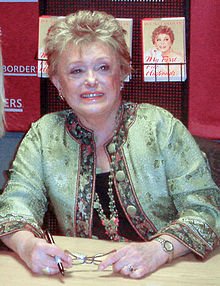 She was born February 21, 1934 as Eddi-Rue McClanahan in Healdton, to building contractor William Edwin "Bill" McClanahan and his wife, Dreda Rheua-Nell (née Medaris), a beautician . She died Thursday, June 3, 2010 at New York Presbyterian Hospital of a brain hemorrhage. She was of Irish and Choctaw descent. Her Choctaw great-grandfather was named Running Hawk according to her autobiography My First Five Husbands... and the Ones Who Got Away (2007). She grew up in Ardmore Oklahoma and graduated from Ardmore High School.

She earned a Bachelor of arts degree at the University of Tulsa majoring in German and Theater. She joined Kappa Alpha Theta sorority and was a National Honor Society Member. She had undergone treatment for breast cancer in 1997 and later lectured to cancer support groups on "aging gracefully." She had heart bypass surgery in 2009.

A childhood friend remembered McClanahan excelled in the classroom and as a dancer. Her humourous side was evident even then. She told people she lived 13 telephone poles north of the stand pipe".

She began acting on off-Broadway in New York City in 1957 and made her Broadway début in 1969. Her role as Caroline Johnson on Another World (from July 1970 to September 1971) brought her notice. On the show, while taking care of twins Michael and Marianne Randolph, Caroline fell in love with their father, John, and began poisoning their mother, Pat. The short-term role was extended to more than a year before Caroline was finally brought to justice after kidnapping the twins. Once her role on Another World ended, McClanahan joined the cast of the CBS soap Where the Heart Is , in which she played Margaret Jardin. She was tapped for television in the 1970s for the key best-friend character on the hit series Maude," starring Beatrice Arthur. After that series ended in 1978, McClanahan landed the role as Aunt Fran on "Mama's Family" in 1983. Her best-known role came in 1985 when she costarred with Arthur, Betty White and Estelle Getty in "The Golden Girls," a runaway hit that broke the sitcom mold by focusing on the foibles of four aging - and frequently eccentric - women living together in Miami. McClanahan won an Emmy for her work on the show in 1987. After "The Golden Girls" was canceled in 1992, McClanahan, White and Getty reprised their roles in a short-lived spinoff, "Golden Palace." Afterwards, she continued working in television, on stage and in film. She called her 2007 memoir "My First Five Husbands And the Ones Who Got Away."

In 2003, she appeared in the musical romantic comedy film as Nancy Stringer on The Fighting Temptations. On May 31, 2005 she was in the musical Wicked as Madame Horrible on Broadway. She played the role for eight months and departed the cast January 8, 2006.

Her autobiography, My First Five Husbands ... and the Ones Who Got Away, was released in 2007.

The Golden Girls was awarded the 'Pop Culture' award at the Sixth Annual TV Land Awards in June 2008. McClanahan accepted the award with costars Bea Arthur and Betty White. Her final acting role was in the cable series Sordid Lives on the Logo network, which premiered July 23, 2008, playing Peggy Ingram, the older sister of Sissy Hickey and mother of Latrelle, LaVonda and Earl "Brother Boy".

McClanahan was one of the first celebrity supporters of PETA (People for the Ethical Treatment of Animals).

McClanahan was married six times: Tom Bish, with whom she had a son, Mark Bish; actor Norman Hartweg; Peter D'Maio; Gus Fisher; and Tom Keel. She married husband Morrow Wilson on Christmas Day in 1997.
McClanahan is survived by her sixth husband, Morrow Wilson (from whom she separated in 2009); her son from her first marriage, Mark Bish of Austin, Texas; her sister, Melinda L. McClanahan, of Silver City, New Mexico; and a nephew, Brendan Kinkade.

Famous Okies| |Home|

This page was updated: Monday, 22-Jan-2018 10:33:10 CST
This site may be freely linked, but not duplicated in any way without consent.
All rights reserved! Commercial use of material within this site is prohibited!
© 2000-2021 Oklahoma Cemeteries

The information on this site is provided free for the purpose of researching your genealogy. This material may be freely used by non-commercial entities, for your own research, as long as this message remains on all copied material. The information contained in this site may not be copied to any other site without written "snail-mail" permission. If you wish to have a copy of a donor's material, you must have their permission. All information found on these pages is under copyright of Oklahoma Cemeteries. This is to protect any and all information donated. The original submitter or source of the information will retain their copyright. Unless otherwise stated, any donated material is given to Oklahoma Cemeteries to make it available online. This material will always be available at no cost, it will always remain free to the researcher.