Oklahoma Cemeteries Website
Click here to break out of frames
This information is available for free. If you paid money for a
subscription to get to this site, demand a refund.
---
Herman Clinton Kirkwood
Dec 31, 1942 - Aug 1, 2015
Posted by Jo Aguirre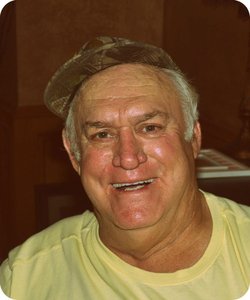 Herman Kirkwood was born December 31, 1942 to Clint & Gracie Kirkwood in Konawa, OK and entered the gates of Heaven August 1, 2015.
Herman married the love of his life, Sharron Henslee, on May 29, 1965, celebrating their 50th Anniversary this year.
Preceded in death by his parents, brother, Gregory, and mother & father-in-law, Mollie & Albert Henslee.
Survived by his wife, Sharron; sister, Claudine Dye; brother, Bill Kirkwood; children, Kris (Misty), Kellie Bruner (Jerry), & Kevin (Pam); 11 grandchildren; 6 great-grandchildren; & many friends.
Herman proudly served the City of OKC as a Police Officer, retiring in 1988 after 20 years; also served 20 years with the Oklahoma Army National Guard. Herman was an avid Historian of Oklahoma Outlaws & Lawmen and President & Founder of Okla. Outlaw Lawmen History Assoc.
Viewing will be Tuesday, 9am-9pm, with family present from 6-8pm at Mercer-Adams. Services will be Wednesday, August 5, 10:00am at First Baptist Church of Bethany with interment in Vista Cemetery, Konawa, OK.
In lieu of flowers, please make donations to The 1st Baptist Church of Bethany Music Program.

Famous Okies| |Home|

This page was updated: Monday, 22-Jan-2018 10:27:12 CST
This site may be freely linked, but not duplicated in any way without consent.
All rights reserved! Commercial use of material within this site is prohibited!
© 2000-2021 Oklahoma Cemeteries

The information on this site is provided free for the purpose of researching your genealogy. This material may be freely used by non-commercial entities, for your own research, as long as this message remains on all copied material. The information contained in this site may not be copied to any other site without written "snail-mail" permission. If you wish to have a copy of a donor's material, you must have their permission. All information found on these pages is under copyright of Oklahoma Cemeteries. This is to protect any and all information donated. The original submitter or source of the information will retain their copyright. Unless otherwise stated, any donated material is given to Oklahoma Cemeteries to make it available online. This material will always be available at no cost, it will always remain free to the researcher.