Oklahoma Cemeteries Website
Click here to break out of frames
This information is available for free. If you paid money for a
subscription to get to this site, demand a refund.
---
Ann Westmoreland Lillard
Muskogee Phoenix
Muskogee, Oklahoma
October 25, 2008
Submitted by: Jo Aguirre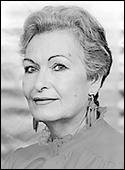 Ann Westmoreland Lillard was born October 4, 1936 in Tahlequah, Oklahoma to Jess Austin Westmoreland and Louise Gordon. She passed away October 23, 2008 in Tahlequah, Oklahoma at the age of 72 years and 19 days.Ann enjoyed making Native American arts and crafts, writing poetry, cooking, baking and flower gardening. She also had a love of nature. Ann showed it by feeding the wild birds and the deer that came to her porch almost every day. She enjoyed spending time with loved ones, having company over to visit and loved everyone she met. Ann never met a stranger. She was preceded in death by her parents, brothers Russell White, Virgil and Jim Westmoreland, sister Thelma Ellis and best friend Louise Whaley. Ann leaves to mourn her passing, her husband George of the home, children Annette Stinnett and husband Marty of Tahlequah, Oklahoma, Jessica Orona and husband Sabas, Jeff Lillard all of Portland, Texas, brother Loyd Westmoreland and wife Oneta of Seminole, Oklahoma, grandchildren Vannessa Stinnett, Emily and Hannah Lillard, Austin and Sarah Hawkins, Erica and Olivia Orona , adopted son Joe Johnson , her beloved dog Simon, who never left her side and many family and friends. Following the services, family and friends are invited to the Municipal Building for fellowship and sharing memories of Ann.The family would like to thank all of the staff at Traditions Home Care and Shepherds Care Hospice, especially Kayla, Kellie Julie and Chaplain WelchFuneral services will be held 2:00 P.M. Tuesday October 27, 2008 at the Reed-Culver with Jerry Ice officiating. Internment will follow at the Park Hill Cemetery. Services were entrusted to the Reed-Culver Funeral Home.
|Park Hill Cemetery Page| |Cherokee County Cemetery Page| |Home|
---
This site may be freely linked, but not duplicated in any way without consent.
All rights reserved! Commercial use of material within this site is prohibited!
© 2000-2021 Oklahoma Cemeteries

The information on this site is provided free for the purpose of researching your genealogy. This material may be freely used by non-commercial entities, for your own research, as long as this message remains on all copied material. The information contained in this site may not be copied to any other site without written "snail-mail" permission. If you wish to have a copy of a donor's material, you must have their permission. All information found on these pages is under copyright of Oklahoma Cemeteries. This is to protect any and all information donated. The original submitter or source of the information will retain their copyright. Unless otherwise stated, any donated material is given to Oklahoma Cemeteries to make it available online. This material will always be available at no cost, it will always remain free to the researcher.