Oklahoma Cemeteries Website
Click here to break out of frames
This information is available for free. If you paid money for a
subscription to get to this site, demand a refund.
---
Vicki Buck
Muskogee Phoenix
Muskogee, OK
February 23, 2010
Submitted by: Jo Aguirre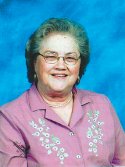 Vicki Buck, the daughter of Andrew Russell and Allene Ethel (Rodgers) Tillman was born on May 6, 1938 in Park Hill, Oklahoma. On Friday, February 19, 2010 Vicki Buck, 71 years, 9 months and 13 days, entered heaven and is now in the hands of Jesus Christ, her Lord and Savior. Vicki served as the Executive Director of the United States Christian Children's Fund for many years. She was an active member of the Carter Baptist Church. She loved the Lord and she loved her family. She adored her children, grandchildren and great grandchildren. Vicki was blessed to spend fifty-three years married to the love of her life. She will be dearly missed by her loving family and all who knew her. She was preceded in death by her parents. Vicki is survived by a loving family which includes her husband Fred Buck Jr. of the home in Park Hill; one son: Freddy Russell Buck and wife Jennifer of Moore, OK; two daughters: Vicki Lynn Cline and husband Roy of Park Hill, OK and Dr. Susan Dunn and husband Mike of Muskogee, OK; eleven grandchildren: Chris Cline and wife Sharon, Doug Cline and wife Malene, Austin Buck, Candace Morris and husband Brandon, Zach Dunn, Grant Dunn, Daniel Buck, Briann Buck, Andrew Buck, Hailey Buck, and Lucas Buck; four great-grandchildren: Malan Cline, Hayden Cline, Jack and John Cline, and one great grandchild due in May. She is also survived by one brother: Andrew Ray Tillman and wife Claudia of Knoxville, TN; four sisters: Martha Coffin and wife Allen of Oklahoma City, OK, Jessie Mathis and husband Dan of Choctaw, OK, Kita Asbill and husband Paul of Park Hill, OK and Teresa Leep and husband Terry of Tahlequah, OK as well as a host of nieces, nephews, friends and other relatives.Pallbearers for the service are Dan Mathis, Paul Asbill, Terry Leep, Allen Coffin, Rufus Liles, Leroy Baker and Butch Cowan. Honorary Pallbeareers are the grandsons.Funeral services will be held at 10:00 A.M. Wednesday February 24, 2010 at the Carter Baptist Church with Bro. Ron Rice officiating. Interment will follow at the Park Hill Cemetery under the direction of Reed-Culver Funeral Home Tahlequah, OK.
|Park Hill Cemetery Page| |Cherokee County Cemetery Page| |Home|
---
This site may be freely linked, but not duplicated in any way without consent.
All rights reserved! Commercial use of material within this site is prohibited!
© 2000-2021 Oklahoma Cemeteries

The information on this site is provided free for the purpose of researching your genealogy. This material may be freely used by non-commercial entities, for your own research, as long as this message remains on all copied material. The information contained in this site may not be copied to any other site without written "snail-mail" permission. If you wish to have a copy of a donor's material, you must have their permission. All information found on these pages is under copyright of Oklahoma Cemeteries. This is to protect any and all information donated. The original submitter or source of the information will retain their copyright. Unless otherwise stated, any donated material is given to Oklahoma Cemeteries to make it available online. This material will always be available at no cost, it will always remain free to the researcher.