© Enid News and Eagle
The funeral for Wayne Wesley Marshall, 86, of Aline, will be 2 p.m. Friday at United Methodist Church, Aline. The Rev. Ken Smith will officiate. Burial will be in Pleas-ant Ridge Cemetery, southwest of Aline. Arrange-ments are by Wentworth Mortuary, Carmen. Visitation with the family will be 5 to 7 p.m. today at the funeral home.
He was born Oct. 19, 1919, in Woods County to Rubin Wesley and Madge J. Little Marshall and died Tuesday, March 28, 2006, at Great Plains Care Center, Helena.
He attended Valley Green rural school and Aline High School. He married Inez Ryel Dec. 24, 1938, in Fairview. They made their home west of Aline. They were members of Oakdale Methodist Church. They moved to Oregon in 1956, where he worked in construction and was on the volunteer fire department and first responders. He also owned and operated a service station. In 1972, they moved to Alaska, where he worked in a bank, an office supply store and also worked as an electrician until 1980, when they returned to Oklahoma where he helped in a hardware store in Cleo Springs and farmed. They lived in Aline and were members of Aline United Methodist Church.
Surviving are his wife, Inez of Great Plains Care Center; two daughters, Betty Mitchell of Aline and Jeannie Jennings of Washington; one sister, Opal Murray of Waynoka; 10 grandchildren; 24 great-grandchildren; and two great-great-grandchildren.
Memorials may be made through the funeral home to Aline Fire Department.
---
Inez Maebelle Marshall
© Enid News and Eagle
04-11-2017
Submitted by: Glenn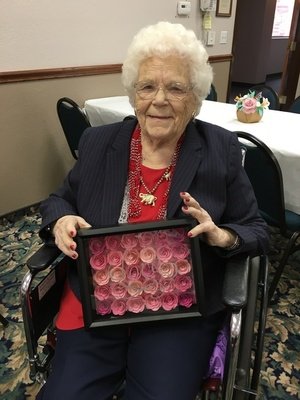 © Enid News and Eagle
The funeral service for Inez Marshall, 95, is 2 p.m. Wednesday, April 12, 2017, at the Wentworth Mortuary Chapel in Carmen, with Hospice Chaplain, Dennis King officiating. There will be a visitation 10 a.m.-12 p.m. prior to the funeral service. Interment is at the Pleasant Ridge Cemetery southwest of Aline, under the direction of Wentworth Mortuary LLC.

Inez Maebelle Marshall was born to Ralph and Lottie (Watson) Ryel on April 20, 1921, at Aline, and passed away April 7, 2017, at Fairview. Dec. 24, 1938, she married Wayne Marshall at Fairview. They lived in Oregon and Alaska before returning to Aline.

Besides her parents and husband, Wayne, Inez was preceded in death by eight siblings; a son; a daughter; and two grandchildren.

She is survived by her daughter, Betty Mitchell of Cherokee, ten grandchildren, 20 great-grandchildren, and 12 great-great-grandchildren; other relatives and friends.

Memorial contributions may be made through the funeral home to the Fairview Fellowship Home Activity Fund.

Remembrances may be shared with the family at www.MarshallFuneralHomes.com.



|Pleasant Ridge Aline Cemetery Page| |Alfalfa County Cemetery Page| |Home|

---




This site may be freely linked, but not duplicated in any way without consent.
All rights reserved! Commercial use of material within this site is prohibited!
© 2000-2023 Oklahoma Cemeteries

The information on this site is provided free for the purpose of researching your genealogy. This material may be freely used by non-commercial entities, for your own research, as long as this message remains on all copied material. The information contained in this site may not be copied to any other site without written "snail-mail" permission. If you wish to have a copy of a donor's material, you must have their permission. All information found on these pages is under copyright of Oklahoma Cemeteries. This is to protect any and all information donated. The original submitter or source of the information will retain their copyright. Unless otherwise stated, any donated material is given to Oklahoma Cemeteries to make it available online. This material will always be available at no cost, it will always remain free to the researcher.