Oklahoma Cemeteries Website
Click here to break out of frames
This information is available for free. If you paid money for a
subscription to get to this site, demand a refund.
---
Alfalfa County, Oklahoma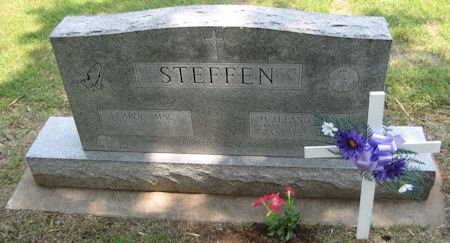 © by Rick Sumrall
Carol Mae & Dr. H. Leland, M.D. Steffen
Burial in: Cherokee Municipal Cemetery
Dr. H. Leland Steffen, M.D.
© Published in Enid News and Eagle News
Feb. 2, 2005
Submitted by Jo Aguirre
Dr. H. Leland Steffen, M.D.
Funeral services for Dr. H. Leland Steffen, M.D., 77, of Enid were Tuesday, January 18, 2005 in the Hillsdale Bible Church. Pastor James Porterfield officiated. Burial followed in the Cherokee Municipal Cemetery. Arrangements were with Ladusau-Evans Funeral Home.
He was born March 30, 1927 at home near Booker, Texas to Nicholas and Ona Tipton Steffen and died on January 15, 2005 in Enid.
He is survived by his wife Carol Steffen, married thirty eight years, a daughter and three sons, Cynthia Hendrickson, R.N. and her husband James of Ponca City, Dr. Brent Steffen and his wife Janet of Kearney, Neb., Dr. Prentice Steffen and his wife Sylvana of San Francisco, Calif., and Dr. Mark Steffen and his wife Deanna of Hutchinson, Kan., ten grandchildren, Melody, Lisa, Jennifer and Matthew Hendrickson, Sarah, Allison and Caitlin Steffen, Jean Carrara Steffen, Collen and Jessica Steffen. Also two brothers, Phillip Steffen of Conway Springs, Kan. and Lawrence Steffen of Kimberly City, Mo., and two sisters, Wilma Hasenoehrl of Caldesac, Idaho and Cathleen Whipps of Spokane, Wash.
He was preceded in death by his parents.
Memorials can be made through Ladusau-Evans Funeral Home to Hillsdale Christian School.
---
Carol Prentice Steffen
© Brown-Cummings Funeral Home
07-2012
Submitted by: Jo Aguirre
© Brown-Cummings Funeral Home
The graveside service for Mrs. Carol Prentice Steffen will be held Tuesday July 31st at 9:00 am in the Cherokee Municipal Cemetery with Cynthia Hendrickson Officiating under the direction of Brown-Cummings Funeral Home.

Viewing is available at Brown-Cummings Funeral home. The family will receive guest at The Funeral Home Monday July 30th From 7:00P.M. until 8:00 P.M.

Carol Prentice Steffen was born in 1926 on a farm near Aline, Oklahoma, to Loren and Ida (Whiteneck) Prentice and Died July 24th 2012 in Ponca City, Oklahoma. She attended the rural Prairie Bell School of Woods County. She attended Cleo Springs and Aline High Schools, graduating in 1943 as salutatorian of her class. In 1942, she was basketball queen of Aline High School. She was a student at Northwestern State College, Alva, from 1943-1947, graduating with a B.S. degree in education. While a student there, she was a member of Delta Sigma Epsilon Sorority, Little Theatre and Kappa Delta Pi, a national honor society in education. After graduation, she taught in the Elementary School System of Medicine Lodge, KS; then she returned to Alva and served as Secretary to the President of Northwestern State College. She served as Secretary of the Northwestern Alumni Association.

In 1952, she and H. Leland Steffen were married in Alva. They lived at Oklahoma City where she taught at Nichols Hills Grade School. They moved to Enid in 1957, where she was active in the Women's Auxiliary of the Garfield County Medical Society, holding various offices as president, secretary and treasurer.

She was a Sunday School teacher for ten years in churches in Oklahoma City and Enid. She was a member of Emmanuel Baptist Church and served two years as a group leader of Women's Missionary Union. She was an employee of Emmanuel Baptist Church working in the church nursery for seven years. She did volunteer work with Enid Mobile Meals, Hospitality House, the Methodist Nursing Home and the Enid Literacy Council.

She was active in her children's school activities serving as homeroom mother, Campfire group leader and Boy Scout Den leader; she assisted her children in 4-H Club work, a member of several bridge clubs and was also a long time member of the Monday Morning Bible Study.

She is survived by a daughter and three sons: Cynthia Hendrickson of Ponca City; Dr. Brent Steffen and wife, Janet, of Kearney, Nebraska; Dr. Prentice Steffen of Napa,California; and Dr. Mark Steffen and wife, Deanna, of Hutchinson, Kansas; nine grandchildren, Melody Bradley, Lisa Murphy, Jennifer Vaughan, Matthew Hendrickson, Sarah Gierhan, Allison Stark, and Caitlin Steffen, Collen Steffen and Jessica Steffen, and two great-grandsons, Wesley and William Vaughan.

She was preceded in death by her parents, her husband, a son-in-law and a brother.

Memorials may be made to Oklahoma Medical Research Foundation Cancer Research with Brown-Cummings Funeral Home serving as custodian of the funds.

Condolences may be made to the family on line at Brown-Cummings.com



|S Surnames - Cherokee Municipal Cemetery| |Alfalfa County Cemetery Page| |Home|

---




This site may be freely linked, but not duplicated in any way without consent.
All rights reserved! Commercial use of material within this site is prohibited!
© 2000-2023 Oklahoma Cemeteries

The information on this site is provided free for the purpose of researching your genealogy. This material may be freely used by non-commercial entities, for your own research, as long as this message remains on all copied material. The information contained in this site may not be copied to any other site without written "snail-mail" permission. If you wish to have a copy of a donor's material, you must have their permission. All information found on these pages is under copyright of Oklahoma Cemeteries. This is to protect any and all information donated. The original submitter or source of the information will retain their copyright. Unless otherwise stated, any donated material is given to Oklahoma Cemeteries to make it available online. This material will always be available at no cost, it will always remain free to the researcher.