Oklahoma Cemeteries Website
Click here to break out of frames
This information is available for free. If you paid money for a
subscription to get to this site, demand a refund.
---
Junior Wayne Pennock
© Published in Enid, OK. News
Tuesday, January 16, 2007
Submitted by: Sylva Rhodes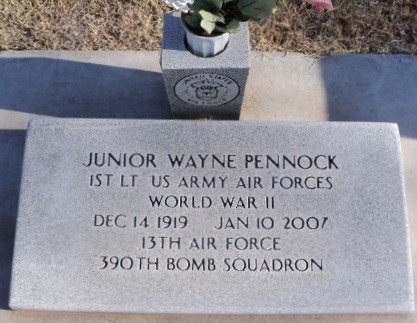 © Glenn
Junior Wayne PENNOCK
Cherokee Municipal Cemetery
Junior Wayne Pennock, 87, of Cherokee, passed away on Jan. 10, 2007, in Enid. He was laid to rest on Friday, Jan. 12, 2007, in Cherokee with full military honors by the Silver Talon Honor Gurard, Vance Air Force Base, Enid, under the direction of Captain Chris Ostrowsky.
Joy Jenlink honored her Grand-daddy by singing "The Star Spangled Banner" and "Amazing Grace." The Rev. Ken Keeling comforted the family with encouraging scriptures from God's word.
Junior was born on Dec. 14, 1919, at Temple, Okla. to William Otis and Beulah Rose Pennock, to a family of four brothers, Paul, Bob, John and Orla and two sisters, Helen and Grace. With the exception of his 92-year-old sister-in-law, Ruth Pennock, of El Dorado, Kan., his parents, brothers and sisters have preceded him in death.
Junior honorably served his country in World War II. His adventure began when he enlisted in the U.S. Air Force on his 20th birthday, Dec. 14, 1941, just a week after the Japanese had bombed Pearl Harbor. Like many other young men and women, then and now, when his country was attacked, he signed up to help defend it.
He was a flight commander with the Crusaders, a veteran Mitchell medium bomber unit of the 13th Army Air Force when it was operating against the Japanese in the Netherlands, East Indies and Southern Philippines. He was also a member of the 390th Bombardment Squadron, when he won the Air Medal, later adding two Oak Clusters to it as he continued to fly 62 missions. Other medals listed on his discharge papers include American Defense Service Medal, American Campaign Medal Asiatic, Pacific Service Medal and Philippines Liberation Medal.
One of Junior's greatest honors is that his son, Kevin Meng, and his grandson, Jeremy Junior Meng, followed in his footsteps by serving their country in the armed services. This spring, Jeremy finished Federal Agent School to join the Office of Special Investigations for the Air Force.
Following his discharge, Junior returned to the Midwest where he worked on a ranch and then moved to Oklahoma to work in the oil fields. He moved to Cherokee in 1959, where he resided until his death.
Although Junior had no biological children, from two separate marriages he became dad, granddad and great-grandad to the following surviving children; Sue Qualls and her husband Gary, of Enid; Reva Horton and her husband Shawn, of Broken Arrow; and Jennifer Hackler of Broken Arrow; 10 grandchildren, Jeff Jenlink, Tulsa; Jay Jenlink and his wife Stephanie, Jet; Jaime Hays and her husband Tim, of Goltry; Jason Jenlink, Jet; Joy Jenlink, Enid; Jeremy Meng and his wife, Leslie, of Georgia; David Horton, Broken Arrow; Moriah Pierce and Seneca West, Cherokee; Jessica, Kevin and Genna Hackler, Broken Arrow; five great-grandchildren, Allen and Cassady Jenlink, Tulsa; Cade and Ethan Jenlink, Jet; and Bailey Meng, Georgia. In addition, Junior is survived by many cousins, nieces and nephews who also looked to him as their mentor and best friend.
In addition to his brothers and sisters, Junior was predeceased by his wife Margaret, and three sons, Dan Palmer, Roger Meng and Kevin Meng.
Junior's life can best be summarized by words from his mother at his 8th grade graduation on May 16, 1933: "There are few friends in this wide world whose love is fond and true, and when you count them over, I'm honored to be placed among the few".
|P Surnames - Cherokee Municipal Cemetery| |Alfalfa County Cemetery Page| |Home|
---
This site may be freely linked, but not duplicated in any way without consent.
All rights reserved! Commercial use of material within this site is prohibited!
© 2000-2023 Oklahoma Cemeteries

The information on this site is provided free for the purpose of researching your genealogy. This material may be freely used by non-commercial entities, for your own research, as long as this message remains on all copied material. The information contained in this site may not be copied to any other site without written "snail-mail" permission. If you wish to have a copy of a donor's material, you must have their permission. All information found on these pages is under copyright of Oklahoma Cemeteries. This is to protect any and all information donated. The original submitter or source of the information will retain their copyright. Unless otherwise stated, any donated material is given to Oklahoma Cemeteries to make it available online. This material will always be available at no cost, it will always remain free to the researcher.