Oklahoma Cemeteries Website
Click here to break out of frames
This information is available for free. If you paid money for a
subscription to get to this site, demand a refund.
---
Donald F. "Shorty" Kildow
© Published in Enid, OK. News
Sunday, Jan. 14, 2007
Submitted by: Sylva Rhodes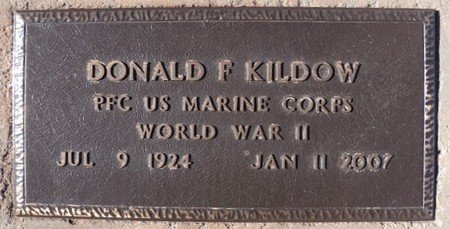 © Glenn
Donald F. KILDOW
Cherokee Municipal Cemetery
Cherokee — Funeral service for Donald F. "Shorty" Kildow, 82, will be Tuesday, Jan. 16, 2007, at the Friends Church in Cherokee at 10:30 a.m. with Rev. Ken Keeling and Rev. Tom Cooksey officiating. Burial will be in Cherokee Municipal Cemetery with arrangements by Lanman Funeral Home Inc. of Cherokee. The casket will be open at the funeral home for viewing today from 2 until 6 p.m. and on Monday from 10 a.m. until 7 p.m.
Condolences may be made to the family by going to www.lanmanfuneralhomes.com.
Shorty was born on July 9, 1924, on the home place near Burlington, the son of Jake Kildow and Ruby M. Corr Kildow and departed this life at his home in Cherokee on Thursday, Jan. 11, 2007.
He was raised near Burlington, graduated from Burlington High School and lived in Alfalfa County all of his life. In the U.S. Marine Corp, he served in World War II from 1944 to 1946, in the Asian Pacific Campaign. For his honorable service to his country, Shorty received a Presidential Citation. He was proud of the red, white and blue, was proud to serve during World War II and felt his service was vital to our country's survival. On Aug. 7, 1948, Shorty and Marion Roberta Jack were married at Amorita. Shorty was a farmer and also worked for the U.S. Postal Service as a clerk. He was an outdoor guy who liked to fish and hunt quail with his bird dog. His greatest love was spending time with his family.
Those surviving are his wife Roberta, of Cherokee; two sons, Roger Kildow and wife Judith, Bobby Kildow and wife Carla, all of Cherokee; five grandchildren, Channon Ray Greenwood and wife Ashley, Lorraine Harmon, Ray Dean Dubbs and wife Jennifer, Calli Kildow Spidell and husband Eric, Sammi Dawn Kildow and fiance, Kyle Pfleider; five great-grandchildren, Christian and Phoenix Greenwood, Cortney and Taylor Harmon and Kaiden Spidell; and one sister, Dorothy Ptacek of Kiowa, Kan.
Those preceding in death are his parents and two brothers, Robert Raymond Kildow and Marvin Dale Kildow.
Memorials may be made to Cherokee Round-up Club or Cherokee EMT Emergency Services through Lanman Funeral Home Inc.
|K Surnames - Cherokee Municipal Cemetery| |Alfalfa County Cemetery Page| |Home|
---
This site may be freely linked, but not duplicated in any way without consent.
All rights reserved! Commercial use of material within this site is prohibited!
© 2000-2023 Oklahoma Cemeteries

The information on this site is provided free for the purpose of researching your genealogy. This material may be freely used by non-commercial entities, for your own research, as long as this message remains on all copied material. The information contained in this site may not be copied to any other site without written "snail-mail" permission. If you wish to have a copy of a donor's material, you must have their permission. All information found on these pages is under copyright of Oklahoma Cemeteries. This is to protect any and all information donated. The original submitter or source of the information will retain their copyright. Unless otherwise stated, any donated material is given to Oklahoma Cemeteries to make it available online. This material will always be available at no cost, it will always remain free to the researcher.