Oklahoma Cemeteries Website
Click here to break out of frames
This information is available for free. If you paid money for a
subscription to get to this site, demand a refund.
---
TYLER BLAINE HIGHFILL
© Published in Enid, OK. News
Tues., Oct. 31, 2006
Submitted by: Sylva Rhodes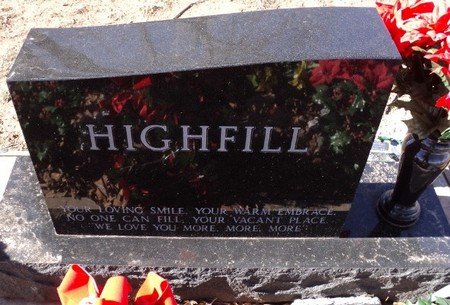 © Glenn
Tyler Blaine HIGHFILL
Cherokee Municipal Cemetery
TYLER BLAINE HIGHFILL
The funeral for Tyler Blaine Highfill, 19, of Cherokee, will be 3:30 p.m. Wednesday at Cherokee High School Auditorium. Burial will be in Cherokee Municipal Cemetery. Arrangements are by Lanman Funeral Home Inc., Cherokee. Visitation will be 9 a.m. to 7 p.m. today and 9 a.m. to noon Wednesday at the funeral home. The casket will be open following the service.
He was born Sept. 21, 1987, in Okeene to Eugene and Patricia Pritchett Highfill and died Sunday, Oct. 29, 2006, in Alva.
He graduated from Cherokee High School in 2006. He enlisted in the Army National Guard in 2005 while still in high school. He was active in track, baseball, basketball, football and was a member of the Foreign Language Club. He was attending Northwestern Oklahoma State University in Alva where he ran cross-country and was a member of the long distance running team. He attended First Christian Church in Cherokee.
Surviving are his parents, Eugene "Geno" and Tricia Highfill of Cherokee; one brother, Toby Jack; two sisters, Jessica and Kayla; his grandparents, Ivan and Betty Dunsworth, Betty Stone, James and Myrna Pritchett and Karen Highfill; and great-grandparents, Doris Stone and Robert Pritchett.
Memorials may be made through the funeral home to the Tyler Highfill Scholarship Fund.
|H Surnames - Cherokee Municipal Cemetery| |Alfalfa County Cemetery Page| |Home|
---
This site may be freely linked, but not duplicated in any way without consent.
All rights reserved! Commercial use of material within this site is prohibited!
© 2000-2023 Oklahoma Cemeteries

The information on this site is provided free for the purpose of researching your genealogy. This material may be freely used by non-commercial entities, for your own research, as long as this message remains on all copied material. The information contained in this site may not be copied to any other site without written "snail-mail" permission. If you wish to have a copy of a donor's material, you must have their permission. All information found on these pages is under copyright of Oklahoma Cemeteries. This is to protect any and all information donated. The original submitter or source of the information will retain their copyright. Unless otherwise stated, any donated material is given to Oklahoma Cemeteries to make it available online. This material will always be available at no cost, it will always remain free to the researcher.