Oklahoma Cemeteries Website
Click here to break out of frames
This information is available for free. If you paid money for a
subscription to get to this site, demand a refund.
---
DOROTHY DOHERTY
© Published in Enid, OK. News
Wed., Nov. 9, 2005
Submitted by: Sylva Rhodes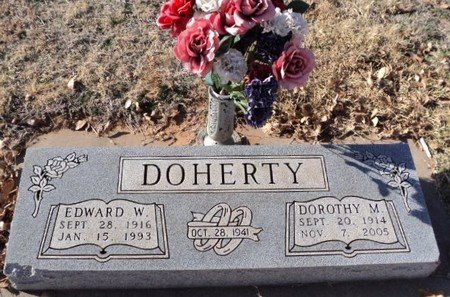 © Glenn
Edward W. and Dorothy M. DOHERTY
Cherokee Municipal Cemetery
DOROTHY DOHERTY
A vigil for Dorothy Doherty, 91, of Kiowa, KS., will be 7 p.m. today. Celebration of mass will be 10 a.m. Thurs. Both will be at St. Cornelius Catholic Church, Cherokee, OK. The Rev. Shane Tharp will officiate. Burial will follow in Cherokee Memorial Cemetery. Arrangements are by Lanman Funeral Home, Inc., Kiowa, KS. Visitation will be 10 a.m. to 1 p.m. today at Lanman Funeral Home, Kiowa, and 2 to 7 p.m. today at Lanman Funeral Home, Cherokee, OK.
She was born Sept. 20, 1914 in Garlington to Sanford H. and Almeda Ramey Cox and died Monday, Nov. 7, 2005 at Kiowa KS. Hospital.
She graduated from Attica KS. High School in 1932.
She married Edward W. Doherty Oct. 28, 1941, in Kiowa, KS. They made their home in Amorita, OK. for 52 years. He died Jan. 15, 1993.
She was a member of St. Cornelius Catholic Church, Cherokee, OK.
Surviving are four children, Victoria "Vicki" Blevins and Sharon Swafford, both of Kiowa, KS., Phillip "Pete" Doherty of Amorita, OK., and Thomas "Tom" Doherty of Greensburg, KS.; one brother, Wayne Cox of Arizona; two sisters, Loyce Baker of Attica, KS., and Merle Kay Matthiesen of Oregon; 12 grandchildren; and 24 great-grandchildren.
In addition to her husband, Edward, she was preceded in death by two sisters and three brothers.
Memorials may be made through the funeral home to Kiowa District Hospital, Amorita-Byron Fire and Rescue or St. Cornelius Catholic Church, Cherokee, OK.
Condolences may be made online at www.lanmanfuneralhomes.com
|D Surnames - Cherokee Municipal Cemetery| |Alfalfa County Cemetery Page| |Home|
---
This site may be freely linked, but not duplicated in any way without consent.
All rights reserved! Commercial use of material within this site is prohibited!
© 2000-2023 Oklahoma Cemeteries

The information on this site is provided free for the purpose of researching your genealogy. This material may be freely used by non-commercial entities, for your own research, as long as this message remains on all copied material. The information contained in this site may not be copied to any other site without written "snail-mail" permission. If you wish to have a copy of a donor's material, you must have their permission. All information found on these pages is under copyright of Oklahoma Cemeteries. This is to protect any and all information donated. The original submitter or source of the information will retain their copyright. Unless otherwise stated, any donated material is given to Oklahoma Cemeteries to make it available online. This material will always be available at no cost, it will always remain free to the researcher.