Oklahoma Cemeteries Website
Click here to break out of frames
This information is available for free. If you paid money for a
subscription to get to this site, demand a refund.
---
© Glenn
Dolly Marie and William Daniels
Cherokee Municipal Cemetery
WILLIAM "BILL' RAYMOND DANIELS
© Published in Enid, OK. News
Thursday, December 8, 2005
Submitted by: Sylva Rhodes
WILLIAM "BILL' RAYMOND DANIELS
The funeral for William "Bill" Raymond Daniels, 70, of Cherokee, OK., will be 2 p.m. Friday at Friends Church, Cherokee. The Rev. Tom Cooksey will officiate. Burial will be in Cherokee Municipal Cemetery. Arrangements are by Lanman Funeral Home Inc., Cherokee, OK. Visitation will be 9 a.m. to 7 p.m. today with the family present 6 to 7 p.m.
He was born April 28, 1935, in Byron, OK. to Sam and Alta May Walton Daniels and died Monday, Dec. 5, 2005, in Enid, OK.
He graduated from Byron-Driftwood High School in 1953. He then attended Northwestern Oklahoma State University, Alva, OK.
He married Dolly Marie Ferrell June 25, 1955, in Driftwood, OK. They made their home in Cherokee.
He worked at Dick Bright's Sinclair Station, and later for Alfalfa Electric Cooperative for 14 years as a line supervisor. He was a farmer / rancher. He was fire chief of Cherokee Fire Department from 1988 to 1992. He was on the board of directors of ACB Bank and a member of Byron Christian Church, Byron, OK.
Surviving are his wife, Dolly of Cherokee, OK.; four children, Carla Kildow and Christy Schanbacher, both of Cherokee, OK., Cindy Hoffman of Edmond, OK. and Cheryl Thurman of Kiowa, Kan.; two sisters, Pat Case of Hemet, Calif., and LaVada Bennett of Enid, OK.; one brother, Jim White of Cherokee, OK.; and eight grandchildren.
He was preceded in death by one brother.
Memorials may be made through the funeral home to Cherokee Fire Department.
---
Dolly Marie Ferrell Daniels
© Enid News and Eagle
06-08-2017
Submitted by: Glenn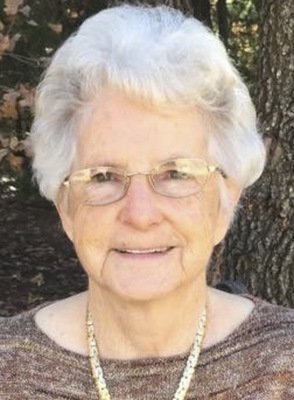 © Glenn
The Lord called our sweet angel home on June 6, 2017. Dolly Marie (Ferrell) Daniels left this earth peacefully at home, surrounded by those who love her. Dolly was given the gift of life and she enjoyed it to the fullest. Dolly was the ninth child of ten, born to Leon and Maude Marie (Winans) Ferrell on Jan. 19, 1935, at home in northern Alfalfa County. She grew up in the Driftwood area. She enjoyed telling everyone that she had nine siblings naming them in order - seven brothers, (Bobby, Billy, Jimmy, Tommy, Teddy, Henry and Benny) and two sisters, (Pauline and Rosalie). Friends and family heard this often as her disease progressed, but it was received with a smile every time due to understanding what dear memories she treasured as she grew up with them all. She graduated in 1952 from Byron-Driftwood High School, where she excelled in cheerleading and basketball. She always bragged of her high point ballgames, at five foot tall, and challenged each one of her children and grandchildren to break her record.

She was also the Alfalfa County tennis champion and salutatorian of her graduating class. After graduating, she attended Enid Business College in Enid. In 1955, she married the love of her life, Bill Daniels, in Driftwood, and they made their home in Cherokee, where she began working for Alfalfa Electric. During her working years, she was also employed by Guarantee Abstract and Alfalfa County Bank, where she worked for twenty years as a cashier and bookkeeper, retiring from there in 1990, to enjoy her grandchildren. She always considered her greatest career to be raising her four girls. She was a member of the Friends Church of Cherokee. During her early years, she enjoyed being a member of several bowling leagues in Cherokee. She and Bill had many, many laughs enjoying time with their card club friends. She was thrilled by being honored with one of the Cherokee Mother of the Year awards in May of 1986. Later, her greatest enjoyment was attending all activities that her children, grandchildren and great-grandchildren were a part of. If you would have asked her what her two most treasured things in life were, undoubtedly it would have been the hugs and kisses from her sweet Bill and the joy of rocking each of her babies.

Dolly is survived by her four daughters, Carla Kildow and husband, Bobby of Cherokee, Cindy Hoffmann and husband, Mark of Edmond, Christy Schanbacher and husband, Steve of Cherokee, and Cheryl Thurman and husband, Greg of Kiowa, Kan.; three brothers, Tom Ferrell and wife, Alyce of Kiowa, Kan., Ted Ferrell and wife, Margie of Wichita, Kan., Benny Ferrell and wife, Adele of Denton, Texas; sister-in-law, Ruth Ferrell of Burlington; sister-in-law, Pat Case and husband, Floyd of Hemet, Calif.; brother-in-law, Jim White and wife, Glennis of Cherokee, and sister-in-law, Lavada Bennett of Enid. Her grandchildren include Bryce and Jessica Schanbacher, Calli and Eric Spidell, Jerod Schanbacher, Jordan and Kevin Burshears, Logan and Kelsea Schanbacher, Sammi Kildow, Braden Hoffmann and Ali Thurman. She was Grandma Dolly to seven great-grandchildren, Carson Schanbacher, Kaiden Spidell, Gage Burshears, Dawson Schanbacher, Rhet Burshears, Allisa Pfleider and Elliot Burshears. She also has two great-grandbabies on the way, baby boy Schanbacher due in August, and a baby girl due in October, who will have the honor of sharing Grandma's middle name of "Marie". Dolly also leaves lifelong best friends, Joquietta and Ronnie Hodgson and Carol and Boyce Elmore; angel caretakers, Sandy Schroeder, Pat Douglas, Jackie Andrews and Shallyn Tatman; numerous nieces, nephews and friends.

Dolly was preceded in death by her loving husband, William Raymond "Bill" Daniels, who passed on Dec. 5 2005; her parents; two sisters, Rosalie Morgan and Pauline Collins; four brothers, Bobby Ferrell, Billy Ferrell, Jimmy Ferrell, Henry Ferrell; brother-in-law, Floyd Bennett and dear friends, Jeanne and Charles Pelter.

Dolly was celebrated for her loving spirit, as well as her warmth, sensitivity, generosity and love of her family. It was the simple things in life that she never took for granted.

She leaves this time on earth, blessed, knowing that heaven awaits, and she will spend eternity with her Lord Jesus Christ and be reunited with the man she loves dearly.

Celebration of her life is 2 p.m. Friday, June 9, 2017, at Friends Church in Cherokee, with Pastor Joe Woods officiating. Burial follows at Cherokee Municipal Cemetery, with arrangements by Lanman Funeral Home Inc. of Cherokee.

Viewing 1-8 p.m. today, June 8, 2017, and 9 a.m.-11 p.m. Friday, June 9, 2017, at the funeral home. This evening, June 8, 2017, the family will be at Dolly's house to receive friends and family. Condolences may be made at www.LanmanMemorials.com.

Memorials may be given to the Friends Church or Hospice Circle of Love, through the funeral home.



|D Surnames - Cherokee Municipal Cemetery| |Alfalfa County Cemetery Page| |Home|

---




This site may be freely linked, but not duplicated in any way without consent.
All rights reserved! Commercial use of material within this site is prohibited!
© 2000-2023 Oklahoma Cemeteries

The information on this site is provided free for the purpose of researching your genealogy. This material may be freely used by non-commercial entities, for your own research, as long as this message remains on all copied material. The information contained in this site may not be copied to any other site without written "snail-mail" permission. If you wish to have a copy of a donor's material, you must have their permission. All information found on these pages is under copyright of Oklahoma Cemeteries. This is to protect any and all information donated. The original submitter or source of the information will retain their copyright. Unless otherwise stated, any donated material is given to Oklahoma Cemeteries to make it available online. This material will always be available at no cost, it will always remain free to the researcher.