Oklahoma Cemeteries Website
Click here to break out of frames
This information is available for free. If you paid money for a
subscription to get to this site, demand a refund.
Alex Cemetery
Grady County, Oklahoma
Alex Cemetery Gate
&copy: Gene Phillips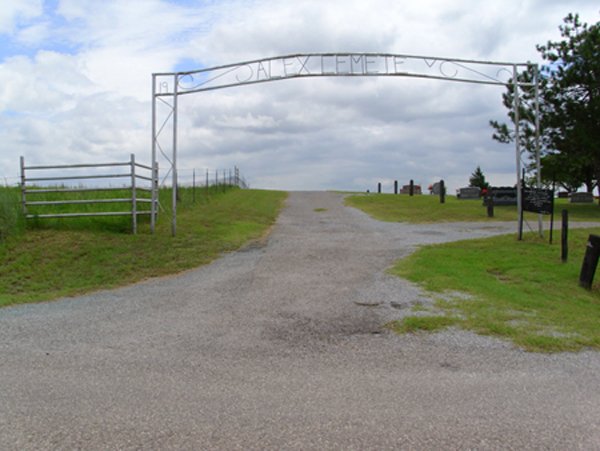 &copy: Shirley Horn Bray
&copy: Shirley Horn Bray
See More Alex Cemetery photos
See Alex Veterans Memorial Names
See Alex, Chickasaw Nation, Indian Territory, Oklahoma
---
Frank Morris set aside a portion of his land for a rural cemetery north of his
homeplace, southeast of the rural community of Alex, OK. Locals recall the
cemetery as the Morris Cemetery. Years passed, expansions came about and
eventually the cemetery became known as the Alex Cemetery. The original
Morris Cemetery is the southern half of the present day Alex Cemetery.
William Frank Morris
28 November 1854
20 January 1921
---
Submitted by Shirley Horn Bray
If you have family or friends buried in this cemetery and
would like to add their names and information, please send
an e-mail to Sandi Carter.
Surnames beginning with:
|Grady County Cemetery Page| |Home|
---
This page was updated: Monday, 08-Sep-2014 19:19:06 CDT
This site may be freely linked, but not duplicated in any way without consent.
All rights reserved! Commercial use of material within this site is prohibited!
© 2001-2015 Oklahoma Cemeteries

Copyright Information: The information on this site is provided free for the purpose of researching your genealogy. This material may be freely used by non-commercial entities, for your own research, as long as this message remains on all copied material. The information contained in this site may not be copied to any other site without written "snail-mail" permission. If you wish to have a copy of a donor's material, you must have their permission. All information found on these pages is under copyright of Oklahoma Cemeteries. This is to protect any and all information donated. The original submitter or source of the information will retain their copyright. Unless otherwise stated, any donated material is given to Oklahoma Cemeteries to make it available online. This material will always be available at no cost, it will always remain free to the researcher.