Oklahoma Cemeteries Website
Click here to break out of frames
This information is available for free. If you paid money for a
subscription to get to this site, demand a refund.
---
Michael Marshall Humphreys


Photo © Vickey
Obit posted by: Janet Laubhan Flickinger
Nov 6, 1946 - May 14, 2012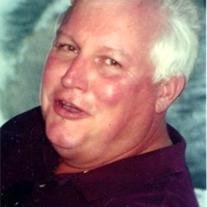 http://www.havenbrookfuneralhome.com/
Michael Marshall Humphreys was born November 6, 1946 in Guthrie, OK to Woodrow Wendell Humphreys and Zelma Vian Fisher Humphreys.
He passed away unexpectedly on May 14, 2012.
He grew up in La Junta, CO and graduated from La Junta High School in 1964. He attended the University of Oklahoma where he received his BBA in 1979. He married Carolyn P. Zalko in 1969. Mike had an unquenchable love of life. He never met a stranger and was always surrounded by friends. His favorite pastimes were golf, OU athletics, and the NY Yankees. He was loved by his family and adored by his grandchildren and will be greatly missed.
He is preceded in death by his parents and is survived by his wife Carolyn, daughter Pamela Humphreys Orth, son Scott Humphreys, and his three grandchildren Tanner, Laney, and Riley Humphreys.
Memorial contributions can be made to the Autism Society of America – Central Oklahoma (ASOCO), P O Box 720103, Norman, OK 73070 or the American Heart Association, 5700 N. Portland Ave. #203, OKC, OK 73112.

Memorial services will be held 2:00 p.m., Saturday, May 19, 2012 at St. John's Episcopal Church, 235 W. Duffy, Norman. Arrangements for Michael and his family were placed in the care of the Vice Family at Havenbrook Funeral Home of Norman.
Online condolences may be shared at www.havenbrookfuneralhome.com
|St John's Episcopal Church Columbarium |Cleveland County Cemeteries | |Home|


This page was updated: Sunday, 16-Jul-2017 08:15:19 CDT
This site may be freely linked, but not duplicated in any way without consent.
All rights reserved! Commercial use of material within this site is prohibited!
© 2000-2020 Oklahoma Cemeteries

The information on this site is provided free for the purpose of researching your genealogy. This material may be freely used by non-commercial entities, for your own research, as long as this message remains on all copied material. The information contained in this site may not be copied to any other site without written "snail-mail" permission. If you wish to have a copy of a donor's material, you must have their permission. All information found on these pages is under copyright of Oklahoma Cemeteries. This is to protect any and all information donated. The original submitter or source of the information will retain their copyright. Unless otherwise stated, any donated material is given to Oklahoma Cemeteries to make it available online. This material will always be available at no cost, it will always remain free to the researcher.